If you live and breathe, you must cleanse. And if you cleanse, you must moisturize.
That's because, cleansing – even with the gentlest ingredients – strips your face of its natural oils. To ensure your skin doesn't overproduce oil to make up for that, your face moisturizer delivers essential hydration and rebalancing.
But keeping your face moisturized also means less dryness, redness, irritation, and breakouts. It's an essential component of any skincare routine and one that can't be compromised.
Luckily for all you ethical vegans out there, there are plenty of options for keeping your face moisturized while protecting our furry little friends from harm. But the best vegan moisturizers do more than consider the health and welfare of animals, they also consider the health of your skin with the ingredients they use… and we've got the list of our 16+ favorites below.
BUT FIRST: WHY WE MOISTURIZE (WITH VEGAN MOISTURIZERS)
If there's one thing you should always, always do for your skin, that's quenching its thirst. Lack of hydration is the cause of so many of our skincare problems, and moisturizing is the solution.
Cleaners with harsh ingredients, skincare products and makeup that stay on your face all day, environmental toxins and pollutants, climate and weather, sun exposure… all of these things have an impact on the hydration level of your skin. That is, they deplete it. And your skin needs that moisture to stay soft and supple, to maintain a good balance of bacteria, prevent breakouts, and fend off the visible signs of aging such as discoloration, fine lines, and wrinkles.
A moisturizer acts as a supplement for our own natural oils as well as for the skin barrier that helps retain moisture. It's an absolutely necessary part of skincare. But conventional moisturizers aren't always vegan friendly. They may contain animal products and byproducts like glycerine, squalene, and stearic acid or they may have been tested on animals.
The good news is, there are more and more vegan moisturizers on the market every day. The even better news is, vegan moisturizers often contain better skincare ingredients in general than their conventional counterparts. They tend toward organic and natural ingredients, which our skin absolutely adores.
16+ BEST VEGAN FACE MOISTURIZERS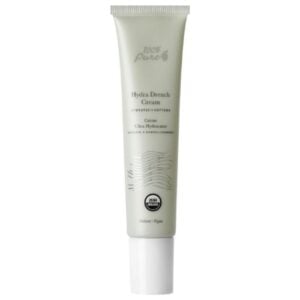 100% Pure Hydra-Drench Cream $48
Suitable for all skin types, this lightweight (and extremely popular) vegan formula is a perfect balance of hydration and conditioning. Hyaluronic acid is the main moisturizing ingredient and it's complemented by soothing rosewater, antioxidant-rich nopal cactus, tightening and toning chia seed, as well as conditioning sodium PCA. Those with extremely dry skin might find this moisturizer a little light, but it can easily be layered with an additional oil-based moisturizer.
If you demand double duty from your vegan face moisturizer, in terms of both hydration and protection, then you might opt for this Green Tea EGCG Concentrate Cream ($48). It contains 4 powerful antioxidant ingredients that help protect your skin from free radical and environmental damage, among other things: acai butter, ECGC, green tea, and yerba mate. The hydrating power is derived from olive squalene, making this a lightweight but highly nutrient-rich moisturizer.
Last but not last is the luxurious, rich, deeply moisturizing vegan Restorative Sea Culture Extra Riche Créme ($53) that is made up of some truly amazing ingredients. It contains sea buckthorn for essential nutrients and moisture, cassia Angustifolia to plump skin, beta-glucan to soothe skin and reduce redness, aeromonas to further reduce inflammation, and baccuri to soften and nourish. The result is a healthier, softer complexion.
---
Pai Skincare Love & Haight Cream $55
Pai Skincare isn't just vegan and cruelty-free, it's also certified organic by the Soil Association to be 77% organically produced. Two of the most important organic ingredients in this particular formula are avocado and jojoba oil, the former rich in essential vitamins like A, D, and E and the latter which mimics the natural composition of your skin. Packed with at least eight other organic ingredients that will condition your skin, this moisturizer is so fresh and natural that you have to use it within six months of opening.
Alternatively, try Pai's popular The Anthemis ($60). It's formulated for reactive skin types – we're talking skin that's seen years of breakouts, redness, and irritation. When it's time to heal, this day cream combines the power of omega fatty acids to restore your skin with antioxidant-rich chamomile and rosehip to protect it from future damage. Use it along with Pai's Middlemist Seven ($50) for results that will take agitated skin to baby-soft smoothness.
---
Indie Lee Active Oil-Free Moisturizer $50
Oily and blemish-prone skin requires an oil-free moisturizer (because you don't want to add oil to oil, making your skin a prime breeding ground for acne-causing bacteria). This moisturizer replaces oils with amazing organic ingredients that your skin will love, including mandarin and daisy extracts, jasmine, great burdock, immortal flowers, milk thistle, and pomegranate. The result is a moisturizer that reduces breakouts and delivers soothing, conditioning, protection. 
Superfruits aren't just great for your gut – they're great for your skin, too. Indie Lee's Super Fruit  Facial Cream ($107) Formulated with superfruits like pomegranate, acai berry, and acerola fruit, these extracts work together to protect your complexion and restore a natural glow. And for added brightening effects, vitamin c and natural peptides have also been added.
---
Boscia Chia Seed Moisture Cream $25
Boscia's super-rich vegan moisturizing cream is intended to repair dry, damaged skin and restore your healthy looking complexion. To accomplish this, Boscia has blended three key ingredients: chia seed oil, elderberry extract, and glacier water. Chia seed is ultra-hydrating and even capable of reducing water loss and the addition of glacier water helps to maintain moisture all day long. In terms of repair, and even protection, elderberry extract contain vitamins A, B6, C and E.
Also consider, Boscia's vegan Green Tea Moisturizing Lotion ($38), which is not only lightweight also oil-free, which means it's great for those with oily skin. Easily absorbed, which is a plus for breakout-prone skin, the addition of Japanese green tea will also benefit this skin type. Green tea provides antioxidant protection from environmental stressors and free radicals but, at the same time, it also reduces the production of sebum. If your breakouts are caused by overactive sebum production, this is the moisturizer of choice.
Boscia's fan-favorite (over 500+ 5 star ratings) Cactus Water Moisturizer ($38) is a gel formula and is so soothing and cooling on the skin you'll want to use it more than just twice a day. All those wonderful sensations can be attributed to the addition of "Queen of the Night" cactus succulent: a plant that lives in some of the driest, most drastic conditions of Mexico and somehow manages to adapt, survive, and even thrive. Amazingly, this plant can offer all that strength, fortitude, and intense hydration to extremely dry skin
---
Moon Juice Cosmic Cream Collagen Protecting Cream $58
Have you heard of the term "adaptogenic"? Neither had we, until we met Moon Juice's vegan Cosmic Cream. Adaptogens are the key facilitators of an adaptogenic moisturizer and what they do is exactly what you're thinking: they adapt to dry, mature, sensitive, blemish-prone, combination and normal skin. That's right. They create the perfect environment for your skin type with incredible ingredients like ashwagandha, schisandra, and silver ear mushroom,  as well as hyaluronic acid. You can expect deep hydration as well as improved firmness and elasticity.
---
First Aid Beauty Ultra Repair Moisturizer $25
It's not easy to find a moisturizer that uses safe and nourishing ingredients safe enough for a baby, that's totally vegan and cruelty-free, and is suitable for all skin types including sensitive skin… but we guess that's why First Aid Beauty is winning awards for this Ultra Repair Moisturizer. Combatting skin concerns that range from simple dry skin up to and including eczema, this rich cream is formulated with the FDA-designated skin protectant colloidal oatmeal that not only relieves itching, but also minor irritations and rashes.
---
J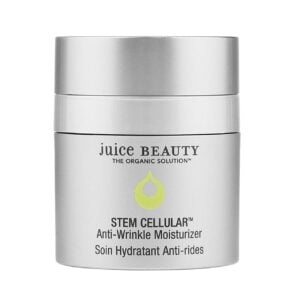 Juice Beauty Stem-Celluar Anti-Wrinkle Moisturizer $70
When you're not just fighting dehydration but also skin that's showing signs of aging, Juice Beauty's proprietary fruit stem cell blend is your answer. Infused with vitamin C for brightening and grapeseed that's packed with resveratrol to target fine lines and wrinkles, this anti-aging powerhouse combo is made even stronger by the additions of both jojoba oil and shea. And did we mention that almost all of those ingredients play double-agent as antioxidants? That's prevention, correction, and hydration all in one tiny package.
---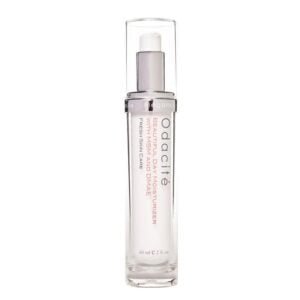 Odacite Beautiful Day Moisturizer $75
We could go on about all of the wonderful organic ingredients in this day moisturizer – like aloe, rosemary, white willow bark, and calendula to name a few – but what we really want to focus on here is the combination of MSM and DMAE. MSM is the most bio-available form of Sulphur, found in all living organisms and essential to the regeneration of cells. It helps fight everything from acne to psoriasis but, teamed up with skin-firming DMAE, this moisturizer is an anti-aging dream.
For something a little more focused on hydration but still containing all the wonderful and unique ingredients that ODACITE is known for, try their time-release crème ($72). Made with energy storehouses found in seeds, called oleosomes, as well as ultra-hydrating hyaluronic acid, this vegan moisturizer delivers intense hydration throughout the day.
---
Peet Ritvko Daily Moisturizer $48
Peet Rivko's vegan fragrance-free daily moisturizer is made with all skin types in mind, but especially those with sensitive skin. Sensitive skin requires sensitive ingredients, and Peet Rivko nails it with a simple yet effective formulation of shea butter, aloe, and jojoba. It's an ultra-clean gentle formula that delivers results without essential oils, and harsh actives.
---
Osea Atmosphere Protection Cream $48
MUA's the world over know that the best foundation to any makeup routine starts with a moisturizer – and this moisturizer can be combined with a mineral powder foundation to create a color correcting cream. More than that, we all know that makeup can clog your pores and lead to breakouts. But by adding lavender and grapefruit essential oils, this moisturizer will actually help balance your skin's oil production.
---
Drunk Elephant Protini Polypeptide Cream $68
Who knew that protein wasn't just for post-workout shakes? Drunk Elephant did! This is why they created this protein moisturizer that delivers as much strength to your skin as protein shakes do for your glutes. But strength isn't all it delivers… use this moisturizer if you're suffering from dryness, texture issues, lack of elasticity, or loss of firmness. It plumps and firms with a nine signal peptide, protects and soothes with pygmy waterlily stem cell extract, and restores elasticity with soybean folic acid ferment extract.
---
Ursa Major Fortifying Face Balm $36
Moisturizer knows no gender, which is why Ursa Major formulated their face balm to work well for both men and women – also because men are concerned about hydration, too. Aloe cools and soothes while kendi oil does its hydrating work, birch sap does it's toning, and carrot does some rejuvenating, there's not a skin concern not covered by this lightweight and fast-absorbing balm. Even the scent is gender-neutral, with an enticing blend of lavender, lime, rosemary, and spearmint.
---
Alpyn Beauty PlantGenius Melt Moisturizer $60
Suitable for all skin types but specially formulated for skin that needs extra moisture and sensitive skin, the bestselling Melt Moisturizer does exactly as the name implies. That is, it weightlessly melts into the skin and provides a fabulous matte finish (while still delivering significant hydration). That makes it an excellent choice for those with shiny, oily skin or as the moisturizer of choice beneath your makeup routine. A little note about the ingredients: squalene and hyaluronic acid are the main moisturizing agents, while ceramides protect the moisture barrier, and bakuchiol oil works on the visible signs of aging.
---
Herbivore Pink Cloud Cream $44
Chronically dehydrated skin requires a long-term solution – and Pink Cloud just might be it. Vegan squalene moisturizes, softens and plumps the skin on the outside while other actives go to work on deeper levels of the dermis for long-term support. One of those actives is tremella mushroom, which holds up to 500x its weight in water, and encourages the formation of a healthy skin barrier. Scented with Moroccan rose, it's as lovely as it is intensely nourishing. 
---
Kinship Supermello Hydrating Gel-Cream $26
Supermello popular moisturizer is formulated with Kinship's proprietary plant-based probiotic Kinbiome. A probiotic for the skin's surface, it helps support a strong skin barrier as well as clearer skin. This unique ingredient is combined with coconut water and marshmallow root for anti-inflammatory, antioxidant benefits, as well as hyaluronic acid for deep hydration.
---
Tata Harper Repairative Moisturizer $120
For dewy, youthful-looking skin, try Tata Harper's vegan Reparative Moisturizer for dry, combination, and mature skin types. It's formulated with anti-aging ingredients that plump wrinkles and fine lines, deliver nutrients and essential fatty acids to the skin's surface, and locks in hydration. It's not a best-selling moisturizer for no reason. 
Tata Harper also has something on offer for all skin types, but especially those with combination or oily skin. This vegan Water-Lock moisturizer ($68) is formulated with orange peptides, pomegranate spheres, and macro hyaluronic acid. Together, these ingredients can combat rough, uneven, and dull skin.
If breakout-prone skin is your issue, Tata Harper's Clarifying Moisturizer ($120) might be the solution. This balancing gel moisturizer contains BHA's, or beta hydroxy acids. BHAs are some of the most powerful ingredients in the fight against breakouts. They're a natural exfoliant that gently removed dead skin cells and debris from the surface of the skin. 
FINAL THOUGHTS
Whether you're concerned about hydration, the visible signs of aging, breakouts, or protection from present and future damage, there's a vegan moisturizer for you. In fact, many of the best vegan moisturizers perform one or more of these functions, and they do it all while keeping your conscious clear from harming animals.