If you live and breathe, you must cleanse. And if you cleanse, you must moisturize.
That's because, cleansing – even with the gentlest ingredients – strips your face of its natural oils. To ensure your skin doesn't overproduce oil to make up for that, your face moisturizer delivers essential hydration and rebalancing.
But keeping your face moisturized also means less dryness, redness, irritation, and breakouts. It's an essential component of any skincare routine and one that can't be compromised.
Luckily for all you ethical vegans out there, there are plenty of options for keeping your face moisturized while protecting our furry little friends from harm. But the best vegan moisturizers do more than consider the health and welfare of animals, they also consider the health of your skin with the ingredients they use… and we've got the list of our 14 favorites below.
BEST VEGAN FACE MOISTURIZERS
Acure Brilliantly Brightening Day Cream $13
Like all Acure products, their toning day cream is free of all the bad stuff like parabens and sulfates but full of all the good stuff like CoQ10, Gotu Kola, and Argan Oil. If hydration and dullness are your issues this potent combo works to restore moisture and even skin tone to leave you with a brighter, healthier glow.
---
Pai Skincare Love & Haight Cream $55
Pai Skincare isn't just vegan and cruelty-free, it's also certified organic by the Soil Association to be 77% organically produced. Two of the most important organic ingredients in this particular formula are avocado and jojoba oil, the former rich in essential vitamins like A, D, and E and the latter which mimics the natural composition of your skin. Packed with at least eight other organic ingredients that will condition your skin, this moisturizer is so fresh and natural that you have to use it within six months of opening.
Alternatively, try Pai's popular The Anthemis ($60). It's formulated for reactive skin types – we're talking skin that's seen years of breakouts, redness, and irritation. When it's time to heal, this day cream combines the power of omega fatty acids to restore your skin with antioxidant-rich chamomile and rosehip to protect it from future damage. Use it along with Pai's Middlemist Seven ($50) for results that will take agitated skin to baby-soft smoothness.
---
Pacifica Dreamy Youth Day And Night Face Cream $13
Pacifica's vegan facial moisturizer combines plant extracts that include soothing Cucumber Fruit Extract, Palmitoyl Tripeptide-3 a peptide known for it's rejuvenating benefits with nourishing plant oils from the likes of Sweet Almond and Grape Seed Oil.  The formula is also made without known skin irritants like phthalates, parabens, and sulfates.
---
Eminence Organic Skincare Calm Skin Chamomile Moisturizer $61
Having reactive skin is one thing but having a condition like rosacea is a whole other battle requiring its own special army of ingredients. Not only has Eminence formulated this moisturizer without know skin irritants like parabens and sulfates, but they've also packed it full of ingredients like chamomile tea and aloe vera to will soothe your skin and reduce prior inflammation and redness. At the same time as your skin feels safe with these items, their special proprietary bio complex featuring coenzyme Q10, vitamins, antioxidants, and alpha-lipoic acid works to restore your clear complexion.
---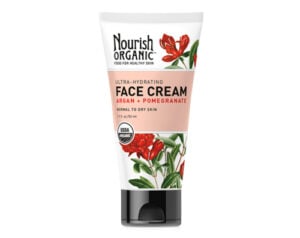 Nourish Organic Ultra Hydrating Face Cream $16
The fragrance-free formula of Nourish Organic's Face Cream is gentle on sensitive or dry skin and its all-organic ingredients won't cause irritation. What this rich and creamy face cream will do is restore hydration with Moroccan oil, protect skin with pomegranate, and fight fine lines and wrinkles with acai.
---
First Aid Beauty Ultra Repair Moisturizer $25
It's not easy to find a moisturizer that uses safe and nourishing ingredients safe enough for a baby, that's totally vegan and cruelty-free, and is suitable for all skin types including sensitive skin… but we guess that's why First Aid Beauty is winning awards for this Ultra Repair Moisturizer. Combatting skin concerns that range from simple dry skin up to and including eczema, this rich cream is formulated with the FDA-designated skin protectant colloidal oatmeal that not only relieves itching, but also minor irritations and rashes.
---
J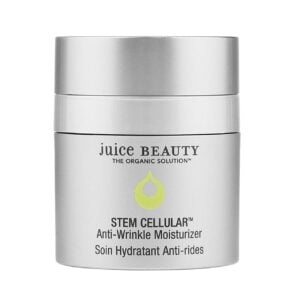 uice Beauty Stem-Celluar Anti-Wrinkle Moisturizer $70
When you're not just fighting dehydration but also skin that's showing signs of aging, Juice Beauty's proprietary fruit stem cell blend is your answer. Infused with vitamin C for brightening and grapeseed that's packed with resveratrol to target fine lines and wrinkles, this anti-aging powerhouse combo is made even stronger by the additions of both jojoba oil and shea. And did we mention that almost all of those ingredients play double-agent as antioxidants? That's prevention, correction, and hydration all in one tiny package.
---
Yes To Carrots SPF 15 Fragrance-Free Daily Moisturizer $15
Not everybody digs the oil essences and botanicals used to add a little natural fragrance to your vegan moisturizer. If you fall under that category, this fragrance-free daily moisturizer delivers all of the same benefits, with no smell to irritate your sensitive nostrils. It's also perfect for the adventurer, or at least the city-slicker who spends a lot of time on patios because it contains natural SPF 15 from zinc oxide. Not only is your skin moisturized, but it's also protected from one of the most dangerous things for your skin – the sun.
---
100% Pure Tinted Moisturizer $46
The au natural look is always a classic that never goes out of style, and it's super easy to achieve with this tinted moisturizer from 100% PURE. Deriving its pigmentation from fruits like peach and apricot, the beautiful Golden Peach tint also acts as protection because these are natural antioxidants. The hydrating properties come from the additions of aloe and cucumbers, which keep the formula light and dewy without clogging pores.
---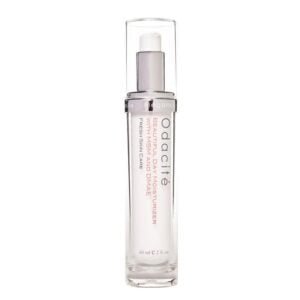 Odacite Beautiful Day Moisturizer $75
We could go on about all of the wonderful organic ingredients in this day moisturizer – like aloe, rosemary, white willow bark, and calendula to name a few – but what we really want to focus on here is the combination of MSM and DMAE. MSM is the most bio-available form of Sulphur, found in all living organisms and essential to the regeneration of cells. It helps fight everything from acne to psoriasis but, teamed up with skin-firming DMAE, this moisturizer is an anti-aging dream.
For something a little more focused on hydration but still containing all the wonderful and unique ingredients that ODACITE is known for, try their time-release crème ($72). Made with energy storehouses found in seeds, called oleosomes, as well as ultra-hydrating hyaluronic acid, this vegan moisturizer delivers intense hydration throughout the day.
---
Osea Atmosphere Protection Cream $48
MUA's the world over know that the best foundation to any makeup routine starts with a moisturizer – and this moisturizer can be combined with a mineral powder foundation to create a color correcting cream. More than that, we all know that makeup can clog your pores and lead to breakouts. But by adding lavender and grapefruit essential oils, this moisturizer will actually help balance your skin's oil production.
---
Drunk Elephant Protini Polypeptide Cream $68
Who knew that protein wasn't just for post-workout shakes? Drunk Elephant did! This is why they created this protein moisturizer that delivers as much strength to your skin as protein shakes do for your glutes. But strength isn't all it delivers… use this moisturizer if you're suffering from dryness, texture issues, lack of elasticity, or loss of firmness. It plumps and firms with a nine signal peptide, protects and soothes with pygmy waterlily stem cell extract, and restores elasticity with soybean folic acid ferment extract.
---
Ursa Major Forthttps://the-detox-market.pxf.io/jWRq60ifying Face Balm $36
Moisturizer knows no gender, which is why Ursa Major formulated their face balm to work well for both men and women – also because men are concerned about hydration, too. Aloe cools and soothes while kendi oil does its hydrating work, birch sap does it's toning, and carrot does some rejuvenating, there's not a skin concern not covered by this lightweight and fast-absorbing balm. Even the scent is gender-neutral, with an enticing blend of lavender, lime, rosemary, and spearmint.
FINAL THOUGHTS
Whether you're concerned about hydration, the visible signs of aging, breakouts, or protection from present and future damage, there's a vegan moisturizer for you. In fact, many of the best vegan moisturizers perform one or more of these functions, and they do it all while keeping your conscious clear from harming animals.