You want your beard to look perfect, and you'll stop at nothing to get it that way. But no matter how much grooming you do, you'll get nowhere if you've got a greasy, dirty beard. Let's "face" it – it's just not appealing.
"But I shampoo my beard every day!" you say. Therein, friend, lies the problem. You should not be using shampoo to wash your beard. Nor should you necessarily be doing it every day. What you need is a good beard wash.
That said, it's tough to know which of the dozens of beard washes is the best. That's why we've put together this guide to one of the best beard washes on the market – Maestro's Beard Wash.
WHY DO I NEED A BEARD WASH?
If you're not convinced that you need a beard wash separate from your regular shampoo, read on. We have a few facts to share with you.
BEARD HAIR VS HEAD HAIR
First, your head hair is head hair. Your beard hair is body hair. It's called androgenic hair, and it's the same as the hair you'll find elsewhere on your body. (That's not gross, that's nature.)
BEARD HAIR TEXTURE
Androgenic hair is coarser, and it grows more slowly than your head hair. You care for it differently too. Your head hair might get a cut once or twice each month. But your androgenic hair is subject to razors, clippers and all manner of devices.
BEARD DANDRUFF
Secondly, the oils on your skin are different from the oils on your head. Shampoos designed for head hair will strip the oils from your skin, causing dry, itchy and flaky skin. And what does that do? It gives you dandruff. There's nothing more unappealing than beard dandruff.
SENSITIVE SKIN
Finally, you probably shave your face now and then, yeah? That can leave your skin oh-so-sensitive. Using a harsh shampoo on your chin will only make you more miserable. At best, your skin may get a burning feeling. At worst? A skin rash.
To avoid these problems, just grab ahold of a good beard wash. Beard wash will cleanse the hair in your beard without stripping it of natural oils. Don't worry – you won't have a greasy beard as a result! Instead, you'll see just the beard you've always wanted, nicely washed and perfectly moisturized.
KEY INGREDIENTS IN MAESTRO'S BEARD WASH
So what makes Maestro's Beard Wash so special? How does it stand out from the other beard washes on the shelf? Here's why we're grabbing it off the shelves.
SULFATE ALTERNATIVES 
What's the first ingredient you see in most shampoos? Sodium Lauryl Sulfate. Sodium Lauryl Sulfate is a surfactant, and it's very cheap. That's why most shampoos include it as one of the top two ingredients.
Sodium lauryl sulfate is a foaming agent, and it's responsible for that bubbly lather you'll get when you wash your hair. It breaks down everything that stands between your shampoo and your hair, including natural oils. It's effective, sure! It's so effective, in fact, sodium lauryl sulfate is an ingredient in engine degreasers.
You won't find engine degreaser in your Maestro's Beard Wash. No, sir. Instead, you'll find safe alternatives which protect your hair. You're a man, not a motorcycle.
GLYCERIN
Glycerin is one of the best moisturizing ingredients for your beard. In short, it actually absorbs water and pulls it into your beard, then creates a natural barrier around your hair to seal it in. You'll notice less frizz and softer hair as a result of the glycerin in Maestro's Beard Wash.
PANTHENOL (VITAMIN B5) 
Another of the ingredients we love in Maestro's is the panthenol. If you're not familiar with it, panthenol is a form of vitamin B. There are a few benefits panthenol will provide to your hair. First, it's non-toxic. It's a perfectly safe ingredient – you'll find it naturally in foods like mushrooms.
Secondly, panthenol has a fantastic ability to protect hair against frizz and breakage. That means your beard will be frizz-free with no split ends.
MAESTRO'S BEARD WASH VARIANTS
Convinced that you need to scoop up some Maestro's Beard Wash? You've got options! Maestro's comes in a few scents; there's a wash for every beard.
Maestro's Modest Beard Wash $24
Maestro's Modest Beard Wash is just what it says. It's an unscented formula, which is great for men who wear cologne and don't want the scents to clash. It's also perfect for men with sensitive skin – there are no fragrances which may irritate your skin.
---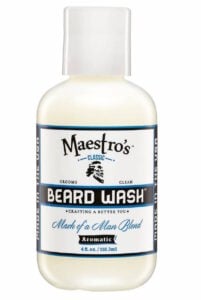 Maestro's Mark Of A Man Beard Wash $24
Mark of a Man Beard Wash is one of the most popular of Maestro's scents. As you wash your beard, you'll feel like you're wearing a suit and tie. The Mark of a Man wash is scented with Citrus Peel Oil and Pepper Fruit Oil for a classic scent.
---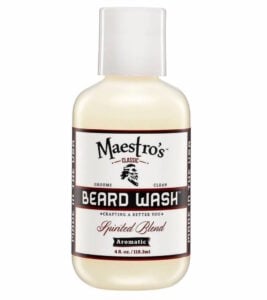 Maestro's Spirited Beard Wash $25
For a more earthy scent, try Maestro's Spirited Beard Wash. You'll find ingredients like Eucalyptus, Rosemary and Juniper Oil which will make you feel as if you've just stepped outdoors. A crisp scent, Spirited beard Wash will wake you right up!
---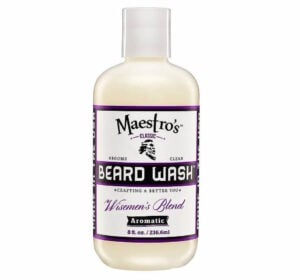 Maestro's Wisman's Beard Wash $22
For a more sensual scent, check out Maestro's Wiseman's Beard Wash. We can only describe the Wiseman's aroma as "exotic," with a blend of Cypress, Rosewood and Frankincense. Wiseman's is sulfate-free like all of Maestro's products. But the Cypress also has antibacterial properties, meaning a fresher beard for you.
MAESTRO'S BEARD WASH REVIEWS
We're not alone in thinking that Maestro's Beard Wash is the bee's knees. Here's a look at what others are saying about the products:
I bought the Mark of a Man Beard Wash for my husband, and it makes me want to cuddle with him!
Maestro's Beard Wash doesn't have sulfates, but still lathers nicely! I feel like I'm getting a clean wash when I use it.
My beard feels clean and moisturized, and my girlfriend says she loves the scent. What more could you want?
The Wiseman's Beard Wash is great! It tingles when I wash my beard, making me feel even more clean. My beard looks great – no more frizz, and my hair feels so soft!
HOW TO USE MAESTRO"S BEARD WASH? 
Alright, so you know you need to buy a beard wash that's made specifically for your facial hair. But should you use it every day?
Nope! You don't have to. If you constantly get food in your beard, or if you're a smoker, you might want to use beard wash a little more frequently. But, for most bearded heroes, just two or three times each week will suffice.
If you find that your skin gets dry or irritated easily, try reducing the number of times a week you wash your beard until you find the perfect balance between clean beard as well as lack of beard itch!
A NOTE ON SULFATE-FREE PRODUCTS 
We mentioned that Maestro's Beard Wash doesn't contain harsh sulfates. Instead, they've substituted sulfate alternatives. When you look at the ingredients in Maestro's Beard Wash, you'll see Sodium Alpha Olefin C14-16 Sulfonate listed – don't get mad at us!
This is, in fact, not a sulfate. It's going to give you the same rich lather that ingredients like sodium lauryl sulfate will. But it shouldn't be as irritating.
Looking for some options to style your beard then check out our in-depth article on the benefits of beard oils,  or our guide on what beard butters do.
FINAL THOUGHTS 
We love Maestro's Beard Wash. There's a "flavor" for every guy, and your partner will love the way you smell, too. The moisturizing ingredients are certainly a bonus, and the fact that it's sulfate-free seals the deal for us.
Just using it a few times a week, you'll notice your beard is less prone to dandruff and split ends, your hair is more manageable (and styleable!) and your skin feels great – so much better than using your everyday shampoo, isn't it?!