As far back as ancient Greek and Egyptian civilizations, people have been applying pigment to the top and bottom of their eyelids – proving that even Cleopatra knew the value of a great eyeshadow. Today, our eyeshadow routine involves primer, base color, crease color, highlighter, and glitter. It also involves way more questionable ingredients than what the pioneers of the smoky eye were using to color their lids.
One of the more controversial ingredients commonly used in eye shadow is talc. Considered the softest mineral in the world, it's used in eyeshadow for its ability to absorb moisture and improve the finish and texture of a product. But, perhaps most importantly to manufacturers, it's an inexpensive bulking agent that works as a great filler to dilute pigment at a very low cost. While that fact in and of itself isn't a problem, the fact that this ingredient is mined in close proximity to asbestos, is.
Whether you struggle with sensitive skin that can be irritated by talc products or you're just one of many consumers who errs on the side of caution, there are brands that support your needs with talc free eyeshadow. They provide all the same effects with less risk of irritation (or worse). Keep reading to find out what our top choices for eyeshadow without talc are and what makes them the best.
BEST TALC FREE EYESHADOWS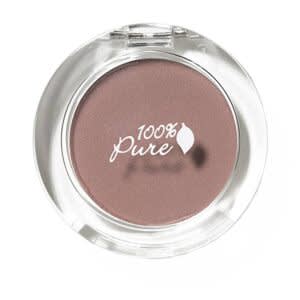 100% Pure Fruit Pigmented Pressed Eyeshadow $20
100% Pure's talc-free pressed eyeshadows (over 900 5 star ratings) are extremely popular with good reason. Colored with vitamin-rich fruit pigments, the 20+ long-lasting individual eyeshadows come in matte, metallic and soft shimmer shades.  Key ingredients in the buildable formula include the likes of Resvatol from Red Grapes known for its rejuvenating properties, antioxidant-rich Black Tea, soothing Rice Starch and nourishing plant-based butter from Avacodo and Cocoa.
---
Era Perez Chamomile Eyeshadow Palette $36
Each natural, talc-free eyeshadow palette in the Era Perez Chamomile line comes with 6 unique shades, with matte base shades and shimmer shades that are perfectly coordinated. They also contain the all-star ingredient of this line: soothing, cooling, healing chamomile (not to mention other well-known skincare ingredients such as vitamin e). This Gorgeous palette ($36) pictured above features champagne fizz, autumn hues, light terracotta, bronze goddess, golden olive, and deep grey/brown.
The Lovely palette ($36) features some semi-shimmer shades along with shimmer and matte shades, including beach sand, sweet toffee, young nectarine, pomegranate molasses, pastel fig, and wood smoke.
With a few more matte shades than the other palettes, the Beautiful palette ($36) features pearl shine, like chocolate, roast hazelnut, cinnamon nutmeg, gold glimmer, and black night.
The Pretty palette ($36) contains shades of a banana split, soft/grey-brown, dusty peach, frosted coral, bronze copper, and eggplant delight.
---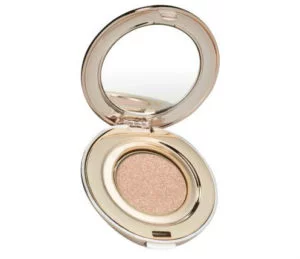 Jane Iredale Single Pressed Powder Eye Shadows $25
Rarely do you find such a high degree of pigmentation in a talc-free pressed powder as you do with this line of Jane Iredale.  Even less common is the ability to glide across the lid flawlessly, regardless of whether you're using the brush wet or dry. Safe and gentle enough for use on sensitive skin, it's formulated with pine bark extract to deliver calming to your eyes, brows, cheeks, and even lips.  If you're looking for something with a little more options check out the brand's extremely popular Eye Shadow Triples ($30), that have 3 different shades.
And when you need an expertly selected combination of shades that take you from Daytime to Purple Rain, Jane Iredale's perfectly curated talc-free eye shadow palette ($59) offers all the same benefits as their single shadows – but in 5 colors each.
---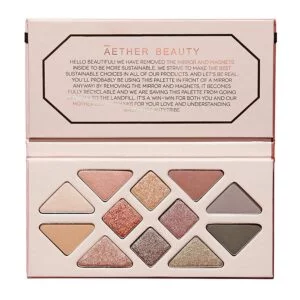 Ather Beauty Rose Quartz Crystal Gemstone Palette $58
Why buy your talc-free eyeshadows one by one when you can purchase an entire beautiful talc-free eyeshadow palette of them? Aether Beauty's extremely popular palettes feature 12 shades, each infused with coconut oil, shea butter, and host of other naturally derived, organic, and fair trade ingredients for an effortless application and extra nourishment to the most delicate skin on your face. This rose quartz palette is every bit romantic and is even made with rose quartz powder. But what we love most about these palettes really has to do with the brand's commitment to their sustainable ethos.
With shadows intended to flatter any skin tone, the Saphire-infused Moonlight Crystal Gemstone palette ($58) is a reflection of our cosmos. It features an array of rich matte, shimmer, metallic and duo-chrome finishes ranging from emerald greens, teals blues to vibrant lavenders.
Purchases of the amber-infused Desert Sunset Palette ($58) celebrate warm-toned shades reminiscence of the magic of a desert sunset (think bronzes, peach metallics yellows, and rich browns mattes).
---
SMASHBOX Photo Edit Eye Shadow Trio $22
Available in over ten variations, Smashbox coordinated these ultra-compact and talc-free trios so that you can complete any look, from anywhere, in an instant. They include a step-by-step guide on exactly how to use the shades, so even the most novice MUA isn't left without guidance. Our fave part? The double dose of your main shade – which is always the first to run out and the one we need most.
---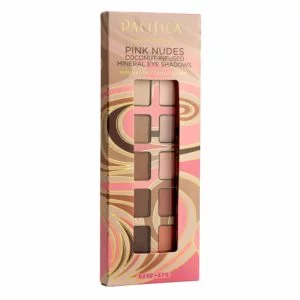 Pacifica Beauty 10 Well Eye Shadow $14
Each shade of mineral-based shadow in this talc-free eyeshadow palette is infused with the hydrating and nourishing benefits of coconut water – for the benefit of your lids as well as your application process. With 10 highly sought-after colors in every palette, Pacifica is a vegan and cruelty-free brand that makes our top talc-free eyeshadow list for designing a health- and eco-conscious product at an affordable price point.
---
Sappho New Paradigm Eye Shadow $24
It doesn't get any higher quality than eye shadow that's been hand-mixed by professional makeup artists – except when you then infuse those shadows with herb and flower extracts and essences that nourish and heal the skin. That's exactly what Sappho has created with its line of 19 premium vegan shadows (that are talc-free) that include ultra-skin beneficial ingredients like jojoba, argan, and chamomile.
---
Burt's Bees 100% Natural Eye Shadow Palette $12.99
Burt's always has sensitive skin in mind – which is why they formulated these eyeshadow kits without talc, SLS, fragrance, petrolatum, parabens, or phthalates. Instead, they've enriched each lightly pigmented and shimmery talc free eyeshadow palette with ingredients that the skin will love more than you love how complementary these hues are. Made with herbs and essences such as honey, bamboo, and essential vitamins, even those who wear contact lenses will find these shadows comfortable.
---
Alima Pure Satin Matte Eyeshadow $14
Nothing quite gives you the same effect as a loose powder when you want a shadow that sits lightly and featherweight on the surface of your skin. Easy to sift, dispense and apply, Alima's line of mineral shadows in Pure Satin is available in 19 richly pigmented but muted matte shades.  For an option that lasts just as long but gives you more depth and coverage, Alima offers their Pure Luminous line ($14) in 15 shimmering and highly-pigmented shades.
But when bolder is better, opt for 14-shade the Pure Pearl Luster eyeshadows ($14). Apply these dry when you want a subtle glow and damp for a dramatic metallic finish. And for those who love the gluten, paraben, sulfate, talc, and animal-free formula Alima offers but require a pressed powder, don't fret. They've created a 12-shade line, of pressed eyeshadows ($26) to serve all your pigment needs in a refillable compact.
---
Ilia Beauty The Necessary Eyeshadow (Warm Nude) $38
Looking for a range of eyeshadows look no further than Ilia Beauty's popular 6 pans talc-free eyeshadow palette available in Warm Nudes ($38) and Cool Nudes ($38) that contain an assortment of matte, shimmer, and satin finishes.  Not only are they easy to blend but they are also highly pigmented. Key ingredients include Jojoba oil that helps nourish the skin, honeysuckle extract to calm, and the antioxidant Vitamin E that helps reduce free radical damage.
---
Vapour Beauty Eyeshadow Quad $48
With 4 different palettes of 4 shades each, you can blend, layer, or wear them alone for an endless amount of looks in this talc free eyeshadow palette. The buildability of the shades also allows you to choose from a more natural look or rich, highly-pigmented finishes. And in terms of the perfect added touches, each of the silky-matte, satin, and pearl hues are plant-based and contain a healthy dose of amino acids that nourish your lids and provide long-lasting wear.
---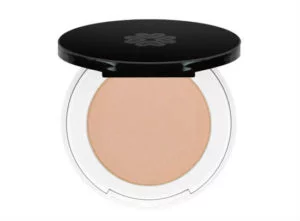 Lily Lolo Eye Shadow $14
There aren't many award-winning brands that can boast such a fair price point, but Lily Lolo manages to do just that with these weightless shadows. Lightweight but blendable and buildable, you can customize your coverage according to just how intense and dramatic your needs are. Plus, you can do that without any fear of the formula: it's full of wholesome items like jojoba, sea holly extract, pomegranate oil, and the very exclusive manuka oil.
Alternatively consider Lily Lolo's extremely popular chemical-free neutral Laid Bare Eyeshadow Palette ($34) that has a collection of 8 wearable shades.
---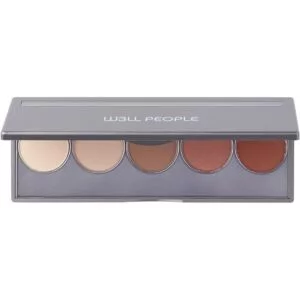 W3ll Nudist Eyeshadow Palette $19
Available in violet or taupe, these talc free eyeshadow palettes capture the essence of New Mexican landscapes in 5 matte and shimmer shades each. The neutral hues are expertly matched to create a variety of day-to-night looks. More importantly, though, these plant-based shadows are formulated with a proprietary blend of botanicals – including jojoba, grapeseed, and rosemary – that ensure you can maintain rich pigment from day-to-night without ever requiring a reapplication.
---
RMS Creaseless Eyelets $26
If you're looking for a long-wearing creaseless eyeshadow – we've got you covered! RMS's vegan formula made sans talc is in 6 shades and is formulated with skin beneficial natural peptides and antioxidant-rich green tea to nourish the skin. The brand notes that none of their products are held together by glue or chemicals, meaning that your health is protected while you wear it (but you also have to protect the compact when traveling).
---
Tom Ford Eyeshadow Quad $88
Tom Ford's fashion is synonymous with luxury and quality and the brand's makeup is no different. The cult-favorite talc-free eyeshadow quad palette that can be worn wet or dry comes in 19 styles that covers it all from sheer sparkle, satin, shimmer, to matte – all carefully curated to give Tom Ford's signature high-fashion look. The silicone-free eyeshadow in its stunning statement packageing is also formulated without parabens, mineral oil, and petroleum.
---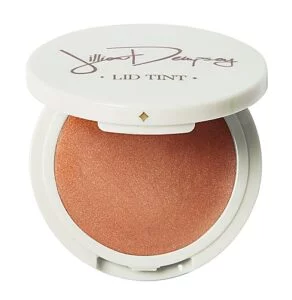 Jillian Dempsey Lid Tint $28
You've heard of lip tint but what about lid tint? It follows the same concept as the lip product we all know and love: just a hint of sheer color in a wide range of 10 shades. This cruelty-free eye eyeshadow from luxury makeup line Jillian Dempsey is basically fool-proof… not just for the easy application but also for its fantastic organic ingredients, including sunflower, castor, cocoa, and sesame seed oils as well as extracts of sage, rosemary, and rosehip.
---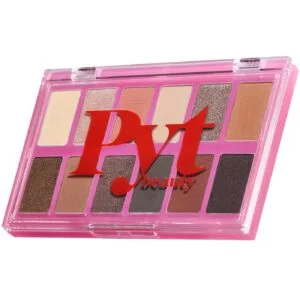 PYT Beauty Upcycle Cool Crew Nude Eyeshadow $28
Last but definitely not least is PYT's extremely popular Upcycle Cool Crew Nude Eyeshadow that contains 8 matte and 4 shimmer tones. The clean beauty (talc-free) cool-toned eyeshadow palette is not only long-lasting but also cruelty-free and vegan. Best of all its made out of 15% recycled plastic!
If you're looking for other talc-free formulas – consider our run-downs on the best of talc-free setting powder,  talc-free bronzer and talc-free blush.  Alternatively consider our overview of the best talc-free makeup brands!
WHY GO TALC FREE?
The problem with talc isn't the talc in and of itself. The problem is that, where talc is mined, there's often asbestos. Asbestos is dangerous to human health and, because they're mined in such close proximity, asbestos has the potential to contaminate the mineral so widely used in the cosmetics industry.
According to some experts, the grade of talc that's used in cosmetics is of extremely high quality. Comparable to the talc used in pharmaceutical applications, high-grade talc for cosmetics is supposedly mined from only select deposits in certified locations. Despite that position, since the 1970s researchers have raised concerns about the possible links between asbestos contamination of talc and different types of cancer.
While none of these links have been proven and the FDA has made no decisive ruling either way, talc remains a controversial and iffy substance that you should think about minimizing your exposure to. At the very least, inhaling talc can lead to breathing difficulties, and applying a talc product to broken skin can cause inflammation or even infection.
And why chance any of these potential side effects when talc-free products offer all the same softness, staying powder, and pigment? Plus, in many cases, brands that are aware of the dangers of talc are aware of other potentially harmful ingredients, too. So you're not just getting talc-free, you're usually getting toxic-free.
If you're considering some other makeup options that don't include talc, make sure to check out our in-depth guides on the best talc-free makeup brands, talc-free setting powders, talc-free blush, talc-free foundation, and talc-free bronzers.
FINAL THOUGHTS
The official research is inconclusive and the FDA is indecisive on the subject of talc, but when it comes to your health and wellbeing, any item that carries a risk of illness as serious as cancer should be considered carefully. That's doubly true for products that you use directly on the most sensitive areas of your skin – namely, your face and eyes. For that, there are talc-free options, and we've already picked out some of the best options for eyeshadow without talc.