Being in the know when it comes to beauty and skincare takes a lot in terms of researching, buying, testing, comparing, and (potentially) returning all the latest and greatest products. As if your schedule wasn't already busy enough. So, what if we told you that you can save yourself a lot of that time and effort by having all the best stuff shipped right to your door – and at a fraction of the cost? Where do we sign you up, right?
The internet is a beautiful thing. And now it's even making you more beautiful… through the innovation of beauty boxes. Jam-packed with all kinds of beauty and skincare products, a subscription to the best organic beauty box lets you discover new brands, try new products, and constantly refills your beauty supply inventory so you're never low on all the stuff you need to maintain a healthy skincare routine. And it does all that for less than what you'd pay on your monthly shopping spree to Sephora.
A lot of brands have caught on to the convenience that this type of subscription offers. We've gone through them all and sorted the best organic beauty box from the imposters for you. Here are our top five recommendations for the best organic beauty subscription box out there.
Best Organic Beauty Boxes
Detox Market Monthly Subscription Box (From $39..95/Month)
If you've ever looked up clean ingredients, you've probably come across The Detox Market. You won't find anything but green beauty from these guys. They have a "no toxic ingredients" rule that means you'll never find parabens, synthetic fragrance, PEGS, or petrochemicals in their products (and their "banned" list is constantly updated as new research comes out). Founded by a community of makeup artists, facialists, nutritionists, and naturopathic doctors, their mission is to educate and that's what their organic beauty box is all about. It's an opportunity for them to share their tried-and-true favorites among the ever-growing list of clean beauty brands. Everything they send is universally useful and meets the highest standards of performance and non-toxicity. Here's what you get:
A choice of subscribing for one, three, or six months (the longer you subscribe, the steeper the discount)
A new featured brand every month
A minimum of three skin care, hair care, and body care products
At least $90 in savings in every box
No limitations on canceling
Free shipping
Earn Detox points for discounts on all your fave products from the Market
Ships the first week of every month, or when you place your first order
---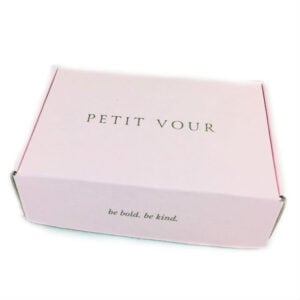 Petit Vour Cruelty-Free Beauty box ($15/month)
Launched during the dark ages when finding high-performance, cruelty-free, and vegan skincare was virtually impossible outside of an expensive local health food store, Petit Vour has been curating the Crème de la Cruelty-Free to their impeccable standards for some time now. Animal testing and byproducts aside, they've got a lengthy list of restricted ingredients to ensure your health, and the health of the environment isn't compromised through your beauty routine. But they also hold all the brands they promote to rigorous standards in terms of transparent practices. Plus, they put a pretty high value on aesthetics – so everything you get in their beauty box will look just as wonderful as it is. Here's what you can expect from a subscription to Petit Vour:
4 cruelty-free products every month
Products are luxury-curated according to your personal beauty profile and preferences
Each box is valued at $45-$60 and the monthly cost of a subscription is $18 US (or $15 if you sign up for the year)
Ships to the USA, Canada, and worldwide
Includes makeup, hair care, body care, and skincare
If you review the items in your box, you receive 400 PV Points (or $4 worth of free money)
Cancel your monthly subscription any time
Ships between the 10th and 20th each month
---
Safe & Chic Mystery Box (From $50/Box)
Safe & Chic is run by a team with over twenty years of experience in mainstream cosmetics and skincare. Recognizing that far too many conventional products contained questionable additives, concerning chemicals, and other ingredients that harm human health and the furry-friends they're tested on, they decided to take matters into their own hands. Not only do they thoroughly research and test each and every one of the products they stand behind, but they also run them through third parties like Think Dirty, Good Guide, and EWG Skin Deep to back up that commitment to quality. Safe & Chic believes you shouldn't have to compromise safety for beauty, and that's what they are among the best organic beauty subscription boxes out there. Here's what they offer:
Three Choices of their Mystery Beauty Box:
$50 for $100 worth of products
$75 for $150 worth of products
$100 for $200 worth of products
All products are full-size (not travel-size)
Personalization in terms of skin type, makeup preferences, and hair type
No subscription – must be purchased month-to-month
No doubles – even if you order two in one month, there will be no overlap in products
Free shipping to the US on orders over $75
---
Beauty Heroes Natural Beauty Box (Starting from 37.96/month)
Prioritizing your health and the health of the planet, Beauty Heroes takes great pride in sourcing high-quality, high-performance products from brands that use organic, biodynamic, and ethical formulas. But what sets Beauty Heroes apart is how they take clean beauty customization to the next level with their Heroic Customer Care. They keep personal information like allergies, sensitivities, and skin conditions on file, and they'll alert you if you ever receive something that can cause an adverse reaction. They'll put your preferences on there too, so you get more of what you love and less of what you don't use. And, as an added customer care bonus that really puts them above and beyond, Beauty Heroes gives members access to the Circle of Trust, where they can get information from esteemed health and wellness influencers and experts. You can ask them about any of the products you receive in your organic beauty subscription box, which includes:
A featured brand every month
A box valued at over $90
One, full-sized product (+ deluxe sidekicks)
3, 6, and 12-month subscription options (starting at $42.95/month and as low as $37.96 for a 12-month subscription)
Convenient auto-renew
No cancellation fees – just send an email
15% off the Beauty Store
First dibs on limited edition releases
Ships the first week of every month
FINAL THOUGHTS
Whether you're new to the clean beauty world or it's a switch you've been investing in for a long time, the best organic beauty box will save you the time and effort of sifting through 1000's of products. Perfectly curated – some according to your own personal preferences – these beauty boxes keep your beauty, skin, and hair care stash topped-up, and for a fraction of what it would cost to purchase them on your own. Make your self-care rituals a whole lot easier with a subscription that's thoughtful, healthy, and efficient.