Men's makeup is nothing new. In ancient Egypt, China, and Japan, men wore makeup as a symbol of status and wealth. In the 18th century, men in the aristocracy, the bourgeoise, and even the middle class followed trends involving a pale face, red cheeks, and lips. Boy George, Aerosmith, and Keith Richards all wore makeup in the 70s, 80s, and 90s.
In the 2020s, an increasing number of men are wearing makeup again. And while not all men are going to be contouring like male makeup guru Jeffree Star, many are learning the tips and tricks to look flawless with just a bit of enhancement from everyday cosmetics. Among the easiest to use and most beneficial of those cosmetics is BB cream for men.  It provides an extremely natural finish that is almost invisible to the eye (tres subtle).
But what is BB cream, why would you use it, and how do you know which is best for you? We're tackling all of that and more in this quick guide to the top 10 Best BB Creams for Men.
WHAT IS BB CREAM FOR MEN?
What exactly the 'BB' in BB cream stands for is anybody's guess. Most people believe it refers to blemish balm, beauty balm, or blemish base. Considering what this powerhouse can do for your skin, we tend to side with the idea that it stands for beauty balm.
So, what is it? BB cream is a 3-in-1 skincare and makeup dynamo. It acts as a moisturizer, a primer, and a foundation. It differs from your standard foundation in that it's lightweight while still providing an excellent degree of coverage, smoothing, and even tinting. It's packed with moisturizing ingredients that protect and nourish your skin while giving you a fabulous complexion, and some even contain SPF, upgrading them to a 4-in-1 product.
With that said, BB cream isn't made for men or women, per se. It's made for anybody who wants better-looking skin, especially those who want to accomplish that with just one simple step.
WHY USE BB CREAM FOR MEN?
Caring for your skin is not gender-specific. We should all be taking steps to nourish and protect our skin with a good cleansing and moisturizing routine. BB cream does everything that a moisturizer can do for you while at the same time providing a little extra protection and coverage.
Here are just some of the reasons you might choose a BB cream over a standard moisturizer:
Even your skin tone and reduce redness, ruddiness, and age spots.
Reduce the appearance of things like rosacea and other skin problems.
Cover up acne, blackheads, blemishes and other things you'd rather not see.
Hide dark circles under your eyes.
Have a healthier, "glowing" complexion.
Protect your skin from the sun with an SPF.
Moisturize your skin with nourishing ingredients like plant oils.
Stave off the signs of aging (wrinkles and fine lines), depending on the ingredients.
BB Cream is as simple to use as a moisturizer, but with all these added benefits. For men who wear makeup, it's a great first step to any cosmetic routine (especially because it works as primer or base for the rest of your makeup). For those who aren't quite on to the men-wearing-makeup boat yet, that's okay too. BB Cream can be very subtle, and nobody will even know you've taken an extra step to look as great as you do.
HOW TO USE BB CREAM FOR MEN
BB cream should be used after you've cleansed your face in the morning, before heading out for the day. BB cream shouldn't be used as part of your nighttime routine. For that, we suggest a standard moisturizer. This is because it contains some amount of foundation, and that's not something you want to keep on your face overnight.
To apply, begin with just a dime-sized amount on the back of your hand. Starting with just a small amount will allow you to gauge how much coverage you need/want, and then build from there.
Using the index finger on your opposite hand, dab the BB cream on your nose, under the eyes, your cheeks, chin, and forehead (but not too close to your hairline). Then, blend and smooth the dollops of BB cream using your fingertips. Start at the inside of your face and work your way outward toward your hairline, ears, and jaw.
Avoid getting the cream in your eyebrows, stache, or beard, as it will clump in these places and you'll have to wash it off and start all over again. When approaching your hairline, blend the cream an inch or so from your hair so it fades into this space instead of creating an obvious line. The same can be said for the area around your jaw and chin. Be sure to have plenty of good, natural light to spot any lines or streaks and blend them out.
If there's a blemish or pimple that requires more coverage, take a very, very tiny amount of BB cream and dab it on top of the blemish. Many BB creams will let you build but, again, be sure you're blending this out so it's not an obviously darker spot than the rest of your face.
14+ BEST BB CREAM AND TINTED MOISTURIZER FOR MEN
Ready to go shopping? Here are the 14+ best BB creams and tinted moisturizers for men.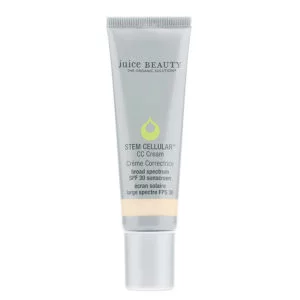 Juice Beauty Stem Celluar CC Cream SPF 30 $39
Available in 4 shades – sheer, ivory, sand, and tan – this organic BB cream is an anti-aging dream. Ingredients such as zinc broad spectrum SPF 30, botanical juices from apple, grape, and aloe, and plant oils like coconut, sunflower, and jojoba, protect your skin from some of the most common causes of aged skin, including the sun, free radicals, and dehydration. The finish is light and glow-y, so you'll hardly even notice it's there while it feeds your skin all that fortification.
---
Jane Iredale Glow Time Full Coverage Mineral BB Cream $48
As the name suggests, this Jane Iredale BB Cream is for the pros. That's because it provides medium to full, buildable coverage, so you'll have to be comfortable working with a serious tint before using this cream. But when you're there, you'll benefit not only from the ability to flawlessly cover blemishes, minimize the appearance of pores, and smooth fine lines, but also the skin-nourishing additions of grapefruit extract, apple extract, and sunflower seed oil. Choose from a huge range of 14, transfer-resistant shades.
If you're not quite a pro yet, opt for Jane Iredale's Dream Tint ($32) sheerer option. Available in 7 lightweight shades, it provides a soft-focus effect that minimizes fine lines and pores, reduces redness, and blurs imperfections, without anybody ever suspecting you're using something a little beyond a moisturizer.
---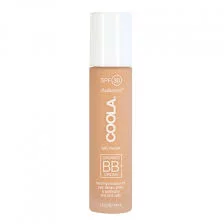 COOLA Rosilliance Mineral BB+ Cream Tinted Organic Sunscreen SPF 30 $52
If you're a farm-to-table, organic type of guy, look no further than Coola. They formulate with 70%+ organic ingredients that are sourced from local vendors, and their products are just as powerful as their ethos. This BB cream comes in 3 shades – light/medium, golden, and medium/deep – and provides a hint of tint that evens skin tone and hides imperfections. Packed with plankton extract to remove impurities and restore appearance, rose stem cell to promote skin cell health, and acai fruit oil rich in vitamins A, B, C, and E, it'll revive your skin while creating an immaculate complexion.
---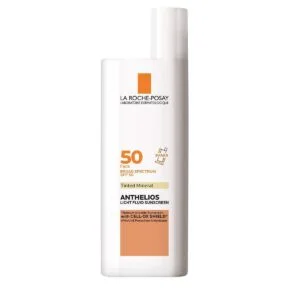 La Roche-Posay Anthelios Tinted Mineral Ultra-Light Fluid Broad Spectrum SPF 50 $33.5
When you can't betray your favorite moisturizer for a BB cream, this La Roche Posay sunscreen can be used after your cleansing and moisturizing routine. Primarily intended as a sun protection, it's a mineral sunscreen with added tint. Formulated for sensitive skin, it's a strong SPF 50 that's non-greasy, non-whitening, and fast-absorbing. For a little added skincare boost, it also contains Senna Alata, a tropical leaf extract that protects against free radicals from pollution and other environmental aggressors.
---
Peter Roth Thomas Max Tinted Sunscreen $38
Option deux for those who wish to stick to their own moisturizer but are looking for protection from the sun and/or some coverage is this Peter Roth Thomas all-mineral SPF 45 sunscreen. We love this option for its universal vanishing tint, which gives it the ability to blend with most skin tones in the medium range. Plus, it has some of our most favorite skin care vitamins – c for brightening and e for antioxidant protection.
---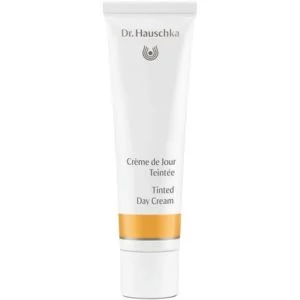 Dr Hauschka Tinted Day Cream $45
Just looking for a sun-kissed glow? Try this tinted day cream, made with ingredients that are kissed by the sun in Dr. Hauschka's biodynamic herb garden and Demeter-certified farm in Germany. Truly committed to all things natural, that pledge goes beyond this product's clean ingredients – the final finish you'll get from the light and translucent cream is as natural-looking as they come.
---
The incredibly sheer, dewy finish of Suntegrity is often referred to as the 'your skin but better' look. And, as the winner of the 2022 Dermascope Aesthetician Choice Award and a regular in the EWG's Annual Sunscreen Guide, it's referred to quite often. Available in 4 shades, this is for the guy who wants to protect his skin from damaging sun rays, smooth out his complexion, and hydrate his skin, all without looking like he's wearing any makeup.
---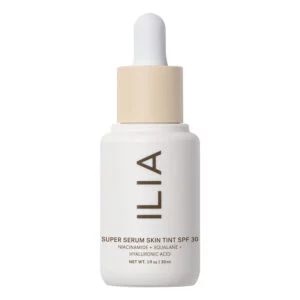 Ilia Beauty Super Serum Skin Tint SPF 40 $46
More than a BB cream, this is a BB super serum. That is, a one-of-a-kind, all-in-one, clean foundation, sun block, and skincare. Available in the largest selection of flexible shades to perfectly match your skin tone (30 to be exact), it's good for dry, mature, sensitive, blemish-prone, combination, and normal skin because it contains all-around incredible ingredients like hyaluronic acids, niacinamide, plant-based squalene, and non-nano zinc oxide sun protection. For the man who wants to care for his skin as he makes it look more marvelous, Ilia is a perfect companion.
---
This day cream works as a primer, a sunscreen, a moisturizer, and a color-correcting and brightening makeup. It's rich and luxurious, but relatively light in terms of coverage. The balanced and smooth finish is accomplished through color-adjusting mineral pigments and non-toxic plant oils.
---
Lab Series SPF 35 BB Tinted Moisturizer $36
Although BB creams are gender-neutral Lab Series BB Tinted Moisturizer is an option made for men. This is one of those products that's an all-in-one, making your daily routine simple. This cream offers 35 SPF protection as well as moisturizing and blemish coverage.
You'll love the additional ingredients, too. Lab Series SPF 35 BB Tinted Moisturizer contains:
Cucumber extract to soothe and relieve puffy skin
Barley extract, another soothing ingredient which is also an antioxidant
Paul's Wort, which plumps and hydrates your skin (read: fewer wrinkles)
Apple fruit extract, which is great for oily skin, acne and other conditions
---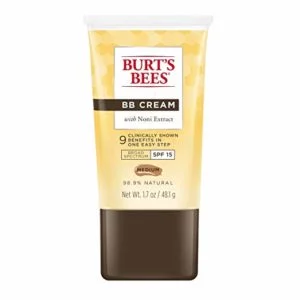 Burt's Bees BB Cream with SPF 15  $11
Burt's Bees B Cream with SPF 15 doesn't have the strongest sun protection. With that in mind, you might want to pair it with another, stronger sunscreen if you work outdoors often. But aside from that, you're going to love the lightweight formula Burt's Bees offers that comes in 3 shade (light, light/medium & medium)
The Burt's Bees BB Cream hydrates your skin as it smooths your skin tone. You'll find oodles of moisturizing ingredients in Burt's Bees cream, too. Those ingredients include jojoba, sunflower seed oil, beeswax (to retain moisture) and morinda citrifolia extract. What is that, you ask? It's in the coffee family, and it helps to relieve wrinkles.
Best of all, each product in the Burt's Bees catalog is guaranteed to be 99% natural. That means no harsh, drying chemicals for your face!
---
Nars Pure Radiant Tinted Moisturizer $54.99
NARS Pure Radiant Tinted Moisturizer is another good choice if you work or play outside frequently. With an SPF of 30, this tinted moisturizer makes you look good while protecting you from the sun's harmful rays.
What we love best about NARS Pure Radiant Tinted Moisturizer is the variety of colors it comes in. No two men have the same skin color. But with NARS, you can choose from 11 unique shades. Can't find a perfect match? Just mix with a bit of your favorite moisturizer to lighten the tone.
---
Elta MD Tinted SPF 40 Sunscreen $26.50
 Looking for an all-around tinted facial sunscreen that also moisturizes? Elta MD's Tinted SPF 40 is your solution. Not only does this sunscreen protect you from the aging effects of the sun, it also hydrates your skin and helps to even your skin tone.
Men who have used Elta MD's Tinted SPF 40 say the product goes on smoothly and is highly recommended. Many were actually recommended the product by their dermatologist – it won't clog pores and helps clear up wrinkles and fine lines.
Overall, Elta MD's Tinted SPF 40 is one of our top choices for the best BB creams for men.
FINAL THOUGHTS
 What's BB cream? Now you know – it's like makeup for men, but not. BB cream is a versatile, all-in-one product that protects you from the sun, moisturizes your skin and gives you a more even skin tone. BB cream hides blemishes and dark spots, and is overall your best solution for younger, healthier and clearer skin.