Starting from when we are young, society dictates guidelines of "acceptable" behaviors ranging from who we can love to what we should be doing with our lives. Although often archaic, these unspoken rules can even have an effect on the way we dress inclusive of what certain body-types should wear as well as what is considered "age appropriate".  Luckily along with the shift of mindset of the recent times, there have also been technological advances that not only allow us to live longer but also look more youthful (should we wish) while doing so. One of the simplest options to target the signs of aging on the body that just happens to be one of the most cost-effective is a good anti-aging body lotion.
WHAT DOES AN EFFECTIVE ANTI-AGING LOTION DO?
Locks in moisture resulting in visibly younger looking skin
Exfoliate the top layers of Epidermis revealing the fresh layers underneath
Reduces signs of aging inclusive of age spots, cellulite, crepiness, sun damage & wrinkles
Improves firmness & helps to address sagging
UNDERSTANDING YOUR ANTI-AGING BODY LOTION INGREDIENTS
Look out for a combination of these skin-beneficial ingredients that work in synergy to maximize your anti-aging body lotion's performance.
ANTIOXIDANTS
The cell-communicating properties of antioxidants like Vitamins A, B, C & E  help the different microorganisms of our skin (and body in general) function healthier improving the way it looks and feels.  Other benefits of Antioxidants include that they help protect as well as fight against free radical damage and also reduce inflammation.
In particular, Retinoids, derivatives of Vitamin A stand out when it comes to combating the visible signs of aging like uneven skin tone and age spots. They also work deep below the skin's surface to boost cellular turnover and collagen levels resulting in visibly firmer skin and a reduction in crepiness and sagging. As anti-aging body lotions are formulated to cover large areas of skin they either have Retinol or Retinyl Palmitate two of the gentler forms of Vitamin A  as a preventative measure to avoid "overdosing" the skin.
EXFOLIANTS
As we grow older our skin stops regenerating at the same pace as it did when we are younger resulting in a build-up of dead layers that not only look dull and dry but that also highlights the visible signs of aging.  Although the word "acid" may sound harsh, exfoliants like Glycolic and Lactic acid, as well as Urea, are extremely important. These ingredients help remove the dead layers built up on the skin's surface revealing the unravaged layers underneath that are smoother as well as more even.
HUMECTANTS
By helping to restore and maintain the skin's moisture barrier Humectants target signs of aging like lines as well as dry and parched skin. Ingredients to look out for include AHAs (Alpha Hydroxy Acids) like Glycerin and Hyaluronic Acid as they work by pulling moisture from the air as well as the deeper layers of skin in order to boost the hydration levels of the surface.
EMOLLIENTS
By softening and soothing, emollients help aid flakiness and prevent skin from cracking.  Another benefit of emollients like Triglycerides, Fatty Acids as well as Cocoa and Shea butter, is that they also help prevent the loss of moisture from the skin.
OCCLUSIVES
On the topic of helping to prevent loss of moisture, occlusive ingredients like Ceramides and Squalene actually create a physical barrier on the skin's surface in order to minimize this from happening.
THE IMPORTANCE OF BROAD-SPECTRUM
We do love rejuvenating ingredients like AHAs or Retinoids to help reverse the damage by the hands of time – but what's the point if you're not protecting your skin from further damage in the first place?  Many experts agree that the sun is one of the leading causes of premature signs of aging like hyperpigmentation, lines and even sagging.  Enter natural broad-spectrum sun protection agents like Titanium Dioxide and Zinc Oxide that shield the skin from sun damage across the UV spectrum.
Make sure that during the day that you are using an effective sunscreen on areas of your skin that are exposed to the sun – inclusive of your hands which are considered to be one of the best giveaways of age. Check out our guide if you're interested in learning more about how the sun ages skin inclusive of best practices and important preventative anti-aging measures you should consider.
RECOMMENDED PRODUCTS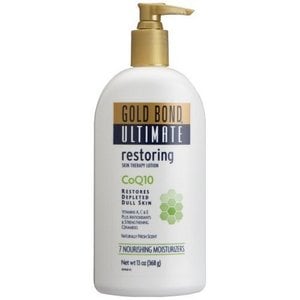 Gold Bond Ultimate Restoring Skin Therapy Lotion ($12.76)
As popular as it is reasonably priced this anti-aging lotion combines a number of skin-beneficial ingredients to combat multiple signs of aging.  On top of antioxidants like Vitamin A (Retinyl Palmitate) that helps with cellular regeneration, Vitamin E that nourishes and Vitamin C to fight free radical damage the formula also includes moisture-rich Shea Butter and skin-replenishing Ceramides.
---
Medix 5.5 Retinol Cream ($12.89)
Not only does Medix's formula delivers on the anti-aging front it does so while being very cost effective. The lotion combines the antioxidant-rich Black Tea and Chamomile extracts to help repair environmental damage with soothing Aloe Vera and moisturizing Shea Butter.  Also be on the lookout for the star ingredient of Retinol that is combined with Ferulic Acid to maximize the anti-aging benefits.
---
 Glycolix Elite 15% Body Lotion ($30)
The 15% Glycolic Acid in this lotion is boosted with Vitamins A (Retinyl Palmitate), C, and E results in a powerful anti-aging formula.  Another benefit of this fragrance-free lotion is that it is made without oil but still manages to leave skin feeling hydrated without any tacky feeling.
---
Paula's Choice Retinol Skin-Smoothing Body Treatment ($25.65)
This multi-tasking lotion is not only fragrance-free and free of synthetic dyes but has a multitude of skin-beneficial ingredients.  Besides Vitamins C and E with their superpowers of rejuvenation look out for the rich Shea Butter and Retinol (Vitamin A) to aid regeneration.
---
Replenix All-trans-Retinol Smoothing Body Lotion ($75)
Through the combination of antioxidants like Green Tea, Leontopodium Alpinum, and Retinol Replenix's potent formula is able to effectively target signs of aging.  The anti-aging lotion includes Ceramides and Hyaluronic Acid into the mix in order to help maximize hydration levels.
WHAT INGREDIENTS SHOULD YOU AVOID
Yes, there is a multitude of key ingredients that aid rejuvenation processes but there are also ingredients you should try and avoid or at the least minimize the amounts included in the skin care formulas you use.  These ingredients include known irritants like alcohol as well as fragrances.
Not to fret – when we say alcohol, there are bad kinds as well as good ones. Bad Alcohols or the ones you should consider avoiding since they damage skin and are linked to signs of aging include Ethanol, SD Alcohol, Isopropyl Alcohol, as well as Alcohol Denat. On the other hand, there are actually Good Alcohols, also known as fatty alcohols like Cetyl, Stearyl, and Cetearyl Alcohol that have skin-beneficial properties are emollient rich and should be included in anti-aging body lotion formulas.
Fruity scents may be appealing to the senses but are generally not good for your skin. Try and avoid fragrance rich formulas something that is especially important for those of you with sensitive skin.  Fragrance, often labeled as Parfum, Phthalates, or Benzene have been linked to breakouts as well as other types of negative reactions.
PRODUCT PACKAGING AND BEYOND
Although discussing packaging may be more relevant when it comes anti-aging face creams, then with body lotions as jars are still the norm there it's important to note why. Ingredients like antioxidants as well as some exfoliants are particularly air and light sensitive meaning their effectiveness degrades with exposure. Being this is so, pump or tube packaging that minimizes exposure is a good way to go. In fact, as heat is another damaging element try and store your anti-aging skin care products in a cool, dark place for optimal protection.
Explore our in-depth guide if you're looking to discover more about how to pick an effective anti-aging day cream that covers skin-beneficial ingredients as well what they do.
FINAL THOUGHTS
An effective body lotion has a multitude of benefits when it comes skin rejuvenation but when combined with preventative measures like a Broad-Spectrum sunscreen as well as anti-aging treatments maximum results against premature aging can be achieved. Always remember the goal isn't to obsess as you can't actually stop the hands of time since natural aging is unavoidable but to feel good about yourself.