Dry skin is more than just itching, flaking, and really scaly legs paired with your favorite shorts. Dry skin can make fine lines and wrinkles look more pronounced. It can lead to acne because your sebaceous glands aren't balanced. And your skin needs moisture to be able to protect itself from the environmental aggressors it's exposed to every day.
All that to say that dry skin is a serious skin problem. And what's more, it's all-too-common. But with the right skincare routine filled with all the right ingredients, you have more than just hope for better skin days – you have an arsenal to fight back.
Most importantly among that arsenal should be dermatologist-recommended skincare products, like Cetaphil or Cerave. So, which of these two is the best for dry skin? We've compared their top 5 products, and we've got all those results for you below.
CAUSES OF DRY SKIN AND HOW SKINCARE PRODUCTS HELP 
Before we get into our Cerave vs Cetaphil reviews, let's explore what causes dry skin and how skin care products can help.
Dry skin is among the most common skin conditions we struggle with. It's caused by a number of factors, some physiological and some environmental. Dry skin can be the result of genetics or of other skin conditions like eczema or psoriasis. Age is also a determinant factor because, as we age, our skin is less and less capable of producing the things it needs to keep our skin moisturized. And those hot showers and baths you enjoy so much could be causing your skin to dry out, too.
In terms of your environment, dry regions that lack humidity as well as regions that experience winter can contribute to dry skin because there is less moisture in the air. Similarly, central heating can dry out the air in your home, office, and other indoor spaces and lead to drier skin.
But perhaps the simplest explanation for dry skin, if none of the above seem to fit, has to do with the products you're using on your skin. You may not realize that the formulas of many of the most popular soaps, scrubs, and body washes are far too harsh for the skin. These products do more harm than good because they're formulated to remove oil. While that may sound like a good thing, they tend to strip all the natural oil from your skin, which is definitely not a good thing. Your skin requires that oil to keep itself balanced and hydrated.
With that said, the answer to "how do skincare products help dry skin?" is fairly self-explanatory. The wrong products strip your skin of oil and throw it off balance. By contrast, the right skincare products use gentler ingredients that don't strip oil. Indeed, they're often packed with moisturizing ingredients that hydrate while they cleanse. And some of the best skin care products, like Cerave and Cetaphil, have entire lines that work in tandem to ensure you have the healthiest, most balanced skin around. So let's find more about them now.
CERAVE VS CETAPHIL FACIAL MOISTURIZER 
As far as what these two products have in common, they're both lightweight and non-greasy. The skin absorbs them easily and they don't leave behind any stickiness or too much shine. Both Cerave and Cetaphil's facial moisturizers are also fragrance-free and non-comedogenic – aka they're not supposed to be made with ingredients that will clog your pores.
For the few things they have in common, there are some major differences in terms of how they'll benefit your dry skin. For this, the award goes to Cerave… and we'll tell you why.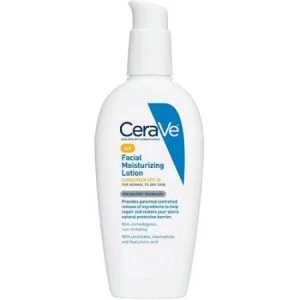 Cerave Facial Moisturizing Lotion $12.31
Cerave contains SPF 30 while Cetaphil is only an SPF 15. Considering the damaging and discoloring effect UV rays have on your face, as well as its tendency to draw moisture from your skin, the stronger SPF wins every time. Plus, Cerave uses zinc as its primary sun-blocking ingredient, and that's about the best sun protection you can get. But Cerave also contains more hydrating ingredients than Cetaphil. It's formulated with hyaluronic acid, niacinamide, and ceramides, which are all ultra-hydrating ingredients you won't find anywhere on the back of the Cetaphil bottle.
We're also a big fan of Cerave's Night Moisturizing Lotion that is formulated without the SPF.
CERAVE VS CETAPHIL NON-FOAMING FACIAL CLEANSER 
Both facial cleansers offer non-irritating, non-comedogenic formulas. Neither use detergents in their low-foaming cleansers, so they won't strip the skin of natural surface oils but they will cleanse oils, dirt, and makeup. One of the only benefits that Cetaphil offers over Cerave in this category is an extra size.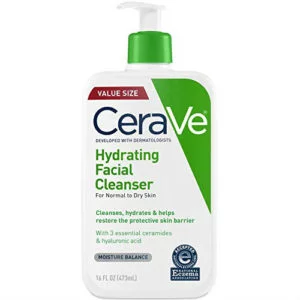 CeraVe Hydrating Cleanser $8
Again, it's in the ultra-hydrating ingredients added to the Cerave formula that make it the clear winner. They've combined three essential ceramides to reinforce and strengthen your skin's natural moisture barrier. To attract additional moisture to your skin after it's been cleansed, Cerave has also included hyaluronic acid. In comparison, Cetaphil's most standout hydrating ingredient is Castor oil, which is a potent moisturizer and skin protectant, but not in comparison to ceramides and hyaluronic acid (within Cerave's formula). And with a formula accepted and approved by the National Eczema Association, we're not the only ones praising Cerave for this perfectly balanced and soothing cleanser.
CERAVE VS CETAPHIL FOAMING FACIAL CLEANSER 
We're calling a tie in this category, but there's a number of good reasons for it. First, let's talk about ingredients. Cerave's foaming facial cleanser contains the ingredients we're starting to know them for: ceramides that protect the natural moisture barrier, hyaluronic acid that attracts moisture to the face, and niacinamide, which moisturizes at the deepest layers your skin and supports skin health. All these things are what make it great for dehydrated skin.
Cerave Foaming Facial Cleanser $14
But Cetaphil brings two foaming cleansers to the table: a gentle foaming cleanser and a pro-foaming cleanser. So, in terms of variety, they take the cake. The gentle foaming cleanser finally offers up some comparable ingredients to Cerave. It's made with a skin conditioning vitamin complex that includes vitamins B5 and E. Vitamin B5 is a provitamin with regenerative, healing, moisturizing and protective properties, while vitamin E is a potent antioxidant that improves cell function.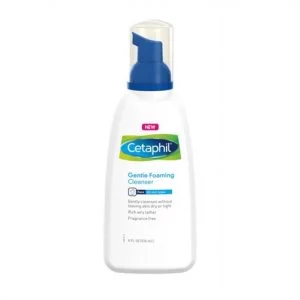 Cetaphil Gentle Foaming Cleanser $9
To be sure, we're less crazy about the ingredients in the PRO foaming cleanser. The ingredient list includes fragrance, which is known to cause irritations and increase dryness. We suggest sticking with Cetaphil's gentle cleanser if dry skin is your problem.
Check out our guide, if you're looking for some other options for gentle cleansers.
 CERAVE VS CETAPHIL MOISTURIZING CREAM
Both Cerave and Cetaphil offer moisturizing creams that are free of irritating, drying, and potentially toxic fragrances. They're both non-greasy, absorb quickly into the skin, can be used on the face as well as anywhere on the body, and are suitable for the most sensitive or dry skin.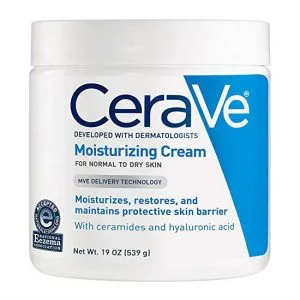 Cerave Moisturizing Cream $15
However, only Cerave can say that their formula is oil-free and hypoallergenic. And, of course, it contains three of the best hydrating ingredients you can find for your skin: hyaluronic acid, niacinamide, and ceramides. On the other hand, Cetaphil uses extra-strength emollients and humectants that bind water to the surface of your skin and prevent the loss of moisture. Available in three sizes, we have to call this battle of the moisturizing creams a draw.
CERAVE VS CETAPHIL MOISTURIZING LOTION
Moisturizing creams tend to be a little bit more rich and full-bodied in terms of their texture. If you have pores that clog easily, they may not be the best defense for your dehydrated skin. Instead, you should opt for an ultra-lightweight moisturizing lotion. Both Cetaphil and Cerave have non-comedogenic, non-irritating options. Although, if breakouts are indeed a concern, Cerave's lotion is also hypoallergenic and made without any oils.
Cerave Daily Moisturizing Lotion $10.50
Cetaphil gives Cerave a run for their money with their formula that contains glycerin, avocado oil, vitamin E and vitamin B5. Formulated specifically for dry skin, these ingredients help attract and bind water to the skin and prevent moisture loss in the same ways as the hyaluronic acid, ceramides, and niacinamide in Cerave's formula. For that reason, we give a better moisturizing lotion award to Cetaphil.
For some more choices, explore our guide on other moisturizers that won't clog pores.
FINAL THOUGHTS
Combatting dehydrated skin requires a skincare arsenal with the most moisturizing ingredients and, in almost every Cerave product, you'll find the top three: ceramides, niacinamide, and hyaluronic acid. Not only do these ingredients lock in moisture, but they also strengthen your moisture barrier, so your skin gets better at hydrating itself. And while Cetaphil brings some excellent vitamin complexes and plant oils to the table, it simply doesn't compare to the power of Cerave's ingredients when it comes to quenching the thirst of your skin.