It's not every day that we get all dolled up before leaving our home… because, realistically, who has time for a full face of makeup before our 9 am meetings? While most of us don't make a smoky eye part of our everyday look, our nights out on the town require a little more drama, and that's when our eyeshadow makes an appearance.
Eyeshadow helps draw attention to what is one of the most mysterious and beautiful parts of our face, but your eyes are also an easy and open gateway directly to your bloodstream. That's why it's essential to know what's going onto your eyes. Keeping eyeshadow fresh, texturally consistent and giving them hues that really pop is sometimes accomplished using harsh and toxic chemicals.
BEST NATURAL AND ORGANIC EYESHADOW
We've compiled a list of the best natural and organic eyeshadows that can easily replace your fave shades with something just as bright and bold without any risk to your body's health.
Vapour Organic Beauty Mesmerize Eye Color Treatment $28
An all-natural creamy eyeshadow stick that adds a little shimmer which can be made more opaque with additional layers, or can be used as a silky, hydrating base to build on with other shadows. Available in three subtle shades, it's ultra-moisturizing and protecting for your eye lid thanks to a powerful formula of vitamin E as well as other natural emollients and organic botanicals like sunflower oil and chrysanthemum flowers. This cream eyeshadow offers long-lasting wear with just one quick swipe.
---
Jane Iredale Eyeshadow Kit $59
An eyeshadow kit with five, expertly-picked complimentary colors, they can be used together or all on their own for a sleek, shimmery shadow that perfect the au-natural look. Tested for sensitivity and formulated without harsh chemical ingredients, Jane Iredale's eyeshadow kit also has 4 other variants.  They all are formulated with all-natural minerals and botanical extracts like Pine Extract that your eyes will love.
If you prefer to purchase your Eye Shadows in the singular, then look no further than Jane Iredale's extremely popular  single pressed powder shadows ($22) that are available in 33 shades! Safety tested for sensitivity just like all Jane Iredale blends, these highly pigmented shadows can be used wet or dry and offer and will help condition and calm irritation with the standout ingredient pine bark.
---
RMS Beauty Eye Polish $28
Created by celebrity make-up artist Rose-Marie Swift, this eye polish doubles as an eye cream, making it particularly great for use on dry or aged skin. You'll find this light but creamy polish in seven sheer shades, all formulated with hydrating and nourishing certified organic ingredients like coconut oil, jojoba oil, cocoa butter and rosemary extract. It's so moisturizing that it shouldn't be used in conjunction with a moisturizer. Bonus: the earthy brown shade can double as your contour.
A little bolder than their eye polish but just as hydrating, RMS's single shadows ($18.50) come in fourteen colors that stick and can be used for lining, highlighting and creating smoky looks. This shadow is made for those who prefer pressed powders to creams but is formulated with the same natural and skin-beneficial ingredients you'll find in all RMS products.
---
Echo Bella Eyeshadow $14.50
For our furry friend loving consumers, this all-natural makeup line is also cruelty free and totally vegan. It ditches all the classic (and harmful) preservatives and utilizes natural preservation methods that have been researched and developed over decades. These ten shadows use only essential natural and organic ingredients and, if you use their refillable casing($9.99), you know your product is not only safe for your body but also good for your environment.
---
Well People Nudist Multi-Stick $23.99
These multi-use sticks keep popping up in our makeup reviews because we can't stress enough how important getting a good bang for your buck really is. Suitable for all skin tones and available in three shades, you can keep this stick in your purse for the perfect quick touch-up on your eyes, lips or cheeks. This convenient makeup stick is EWG-verified for non-toxic, natural ingredients that are not only safe for use, but also work to hydrate and protect your skin with the likes of aloe vera, olive oil and shea butter. You can't ask for one product to do more for your look.
---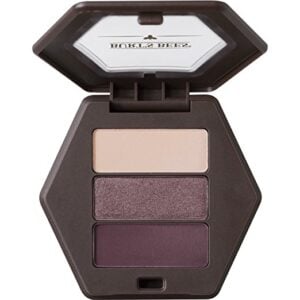 Burt's Bees 100% Natural Eye Shadow Palette $12.99
Burts Bee's has expanded from their incredible line of lip moisturizing products to include really safe and skin-beneficial beauty and cosmetic products as well. Their eyeshadow pallets are available in four different kits that are all inspired by the colors of different natural settings: Dusky Woods, Countryside Lavender, Blooming Desert and Shimmering Nudes. Offering all-day wear that won't smudge or run, these shadows are all 100% natural and made with soothing ingredients like bamboo, honey and vitamin E.
---
Alima Pure Satin Matte Eyeshadow $14
With 16 highly-pigmented hues, you're sure to find the matte shades you're looking for. Rich and silky while at the same time weightless and long-lasting, you can use these shadows dry if you're looking for a more subtle finish.   To add a little sparkle check out their range of 15 Luminous  Eyeshadows ($14) or their Pearl Luster ($14) ones for the most shine. 100% vegan and 100% made with natural, mineral ingredients, those who find it hard to work with powders will love the built-in sifter for easy dispensing.   If you're looking for a pressed version, make sure to check out their pressed eyeshadows ($26) that come in 18 shades.
---
Kjair Weis Cream Eyeshadow $48
Not only is Kjair Weis's luxury cream eyeshadow certified organic but it has no artificial ingredients and is not tested on animals. Available in 4 shades the formula uses bamboo to replace silicone in order to create a long-lasting finish that blends easily. Other key ingredients include antioxidants like the soothing Honeysuckle extract and Vitamin E.
---
Sappho New Paradigm Eye Shadow $24
Sappho New Paradigm's vegan eyeshadow comes in a range of 19 shades (matte & sparkly). Made from skin-beneficial ingredients like nourishing jojoba and moisturizing argan oils as well as plant extracts like calming Chamomile.  The formulas also avoid nano-particles and use 100% recyclable packaging.
---
Hush + Dotti Organic Eyeshadow $24
Coming in 12 shades Hush + Dotti's highly pigmented eyeshadows contain no toxins and are vegan as well as gluten-free.  The buildable formula allows you to define the intensity of your look in more ways than one as it can be worn wet or dry.  Standout ingredients include replenishing olive leaf extract and moisturizing Grape Seed Oil.
Curious to learn more?  Be sure to explore our in-depth guide on all things natural and organic eye-makeup.
WHY  GO ORGANIC AND NATURAL WITH YOUR EYESHADOW?
PARABENS
It's becoming pretty common to find "paraben free" labels on all sorts of makeup and cosmetic products because the dangers of this widely used preservative are well known. Parabens are used to prevent the growth of bacteria, mold and yeast in your eyeshadow, but it's known to mimic estrogen and cause reproductive problems. Traces of parabens have been found in breast cancer tissue samples and, at the very least, can cause skin irritations and contact dermatitis.
PHTHALATES
Another very common chemical present in many of our everyday cosmetics, phthalates are a group of chemicals that help your makeup hold color. Eyeshadow is one of those items that's made to bring bright and bold hues to your face, so it's a major culprit of having phthalates in its formula. These chemicals are endocrine disruptors that have been linked to an increased risk of breast cancer as well as reproductive and developmental issues. You may not notice phthalates listed on your ingredient list because they are often disguised under "fragrances", so look for labels that say "phthalate free".
BUTYLATED COMPOUNDS (BHT AND BHA)
Another chemical used to make your makeup last longer than it otherwise should, BHT and BHA are known to cause skin allergies. What's worse, they are endocrine disruptors that have also been linked to organ, developmental and reproductive toxicity. Banned in the EU because of this evidence, they are also bio-accumulative – meaning your body can't get rid of them and they accumulate over time, which can lead to serious health consequences.
SYNTHETIC COLORS
In order to create the various bright, shimmery or metallic hues we wear on our eyes, colors are synthetically made. The synthetic colors used to create the shades of our eyeshadows are derived from petroleum and coal tar sources. These chemicals are suspected human carcinogens that are toxic to your body and, because of the way petroleum and coal is extracted, they're ultimately bad for the environment too. Look for anything in your ingredients list that's labeled FD&C or D&C preceded by a color and a number (i.e. D&C Red 27 or FD&C Blue 1).
TALC
is often used in eyeshadows to create a frost or metallic hue. Some TALC is perfectly safe, while some has been found to contain asbestos. In large amounts, TALC can be a respiratory toxin and other data suggests that it can also cause tumours.
ETHANOLAMINE COMPOUNDS
While these chemicals aren't necessarily harmful on their own, they are often contaminated with nitrosamines, which are human carcinogens. Ethanolamine likely won't show up on your ingredients list, so look for ingredients containing the letters DEA, TEA and MEA.
ALUMINUM POWDER
The only cosmetic you'll find this in? You got it! Eyeshadow. Used to give eyeshadow it's various hues, it's a neurotoxin that's also been linked to organ toxicity. Look for (and avoid): aluminum, LB Pigment 5 or pigment metal.
HEAVY METALS
If you're partial to greens and metallics, you might be especially prone to exposure to heavy metals in your eyeshadow (although it can be found in all types of makeup). Like aluminum powder, heavy metals are neurotoxins that can cause brain damage. Other heavy metals, like Nickle, have been associated with lung cancer and respiratory damage. Nearly 20% of women have an allergy to Nickle and this can cause dry, itchy eyelids, redness as well as blisters.
FINAL THOUGHTS
With all the harmful and toxic ingredients found in our eyeshadows, it can be overwhelming trying to find the colors we want in a product that takes our health and safety into account. But as the world becomes more woke, there are more and more cosmetics out there that do just that. Using natural and organic ingredients that protect and nourish your skin while providing a variety of hues with botanicals and flower extracts, you can have the best of both worlds.