The battle between matte and dewy skin is tough, like on the level of an epic Game of Thrones situation. Let's be real, here, dewy sometimes crosses over into greasy and matte sometimes means parched. As the age-old question goes: how much moisture is too much? Some people seem to radiate inner health and wellness  – but for the rest of us, the rabble…let's just say it doesn't come that easy.
Serums may be first in line to help ward off the signs of aging. Great on their own or even as additions to your anti-aging moisturizing routine, serums are a beneficial way to treat fine lines, wrinkles, and help you achieve that ethereal glow.
WHAT ARE SERUMS?
Serums are light, fast-absorbing liquids that are often highly concentrated with active ingredients containing potent anti-aging capabilities. These active ingredients are often used because their molecules are small enough to penetrate and are effectively absorbed by the skin. Research indicates that these ingredients can dramatically impact skin regeneration when it comes to collagen and enzyme synthesis.
In most cases, serums should be labeled as water-based with minimal occlusive ingredients like oils (if any) as they may impede proper ingredient absorption. (Although, in some cases, a little bit of oil makes sense as some active ingredients such as coenzyme Q10 – CoQ10 – and vitamin E are actually oil-soluble.)
SERUM OR ANTI-AGING CREAM?
As a rule of thumb, serums shouldn't replace your anti-aging cream but should be used in addition to targeting specific aging concerns. Although some people – especially those with an oilier complexion – prefer sticking to serum only, while others prefer just creams.
SKIN CARE ROUTINE

Finding an effective skincare routine involves trial and error and finding out what works best for your skin.   Although this can change as you age below are some thoughts:
MORNING
CLEANSER
For those of you like to rinse come morning a good cleanser will keep skin free from bacteria causing breakouts, clogged and can even inflammation. When picking out an effective cleanser try and avoid harsh ones that over-dry and irritate skin. In order to discover more details on the most effective anti-aging cleansers check out our article.
SERUM
An essential step in targeting specific signs of aging and boosting collagen reproduction.
CREAM
Anti-aging creams boost moisture levels but they also support rejuvenation efforts. Explore the benefits of anti-aging creams through our in-depth coverage that includes best practices and ingredients you should be looking out for.
OIL
The best time to apply facial oil is when your skin is still damp after cleansing as it traps the most water and therefore maximizes absorption.  With that in mind, oils should be the last thing applied before sunscreen as they may also prevent other products from effectively penetrating the skin.
SUNSCREEN
We cannot stress the benefits of using a broad-spectrum sunscreen as a measure to help prevent premature aging. Read more in our rundown about how to pick a good sunscreen including why to go for physical protection agents, what they do, as well as how they work.
NIGHT ROUTINE
PRE-CLEANSER/MAKEUP REMOVER
Most sunscreens and some types of makeup (particularly eye makeup) require oil to be fully removed from the skin.  Read our guide on a simple DIY anti-aging makeup remover that is easy to make and, best of all, won't sting your eyes (we also include several oil-based cleansers for those of you not into DIY).
CLEANSER
Cleansing your skin at night removes the final traces of makeup and helps to maintain the skin's defensive barrier while ridding it of environmental stresses like pollution.
SERUM

The anti-aging benefits of serum are numerous, as we've waxed poetically on about them. One of the great things about serums is that different ones can target different concerns, and some (such as Retinol based ones) are more suitable for nighttime use.
Be sure to check out our guide that covers the anti-aging benefits of retinoic acid, which is more commonly know as Retin-A, if you're interested in learning more.
NIGHT CREAM
Do you really need an anti-aging night cream? Truth be told, it's really about preference and your own skin needs, some people like to combine a serum and a night cream, while others prefer just a serum, a night cream or nothing at all. When it comes to an anti-aging skincare regime, in general, it's important to note that balance is key. Although it's good to let your skin breathe at night, using a night cream can really help those whose skin actually need an increase in moisture intake. The problem is that certain anti-aging creams may also hinder your skin's natural ability to rebalance oil production especially those that are too occlusive (with heavy oils) and seal the skin's barrier completely.   If you're one of those people who need an anti-aging cream at night, a water-based that use lighter oils may be the way to go.
Check out our article – if you're interested in discovering about what makes up a good night cream and more.
THE POWER OF MIXING AND MATCHING INGREDIENTS
Most active ingredients are like workhorses for the skin, with multipurpose functions for anti-aging and preventative methods. Like the rest of the body, the skin is a living organism and needs different nutrients to function. By using multiple serums in your routine, you can boost your skin's regenerative processes. It's important to note that all ingredients function in different ways to target various concerns. Some may work on a cellular level, while others focus on the top layer of the skin. Logically, that means there are some serums that work well with others as well as some that work well in the day, and others that work better at night.
UNDERSTANDING SKINCARE INGREDIENT CATEGORIES
ANTIOXIDANTS
With cell-communicating properties, antioxidant ingredients in serums help to boost your skin's moisture absorption ability so you can maximize your anti-aging game. They also help reduce inflammation while combating free radical and environmental damage. Certain antioxidants such as Vitamin C also boost the proactive benefits of sunscreen. Explore our guide that covers the most effective antioxidants to apply to your face if you're interested in learning more.
HUMECTANTS
Maintain your skin's natural moisture barrier with humectant ingredients (glycerin, hyaluronic acid, etc), which help increase hydration levels by attracting water to the skin's surface – well, at least "technically", since they work by drawing moisture out of the environment. In dry climates, humectants may actually draw out moisture from the deeper layers of skin, leading to dryness. If you find that a serum containing humectants actually dry out your skin, try a formula that has a smaller amount (lower on the ingredient list) or put an anti-aging cream over the top as they generally have emollients or other more occlusive ingredients.
EXFOLIANTS
Exfoliants essentially help boost the penetration levels of other anti-aging ingredients by softening layers of the skin and removing dead cells as well as improving its moisture-binding abilities.
OCCLUSIVES
Protect your skin against water loss with occlusive ingredients. They create a thin barrier on the skin to lock in moisture and prevent dryness and cracking. As we explained earlier, serums usually avoid heavy occlusive ingredients to allow maximum nutrient absorption.
EXPLORING DIFFERENT ANTI-AGING SERUMS
EXFOLIATING SERUMS
Exfoliating serums help improve dull complexions by removing dead skin cells and revealing the fresh layers beneath.
SIGNS OF AGING
Exfoliating serums address fine lines/wrinkles, dullness, roughness, sun damage, and uneven skin tone.
WHEN TO USE
As a rule of thumb exfoliating serums work best at night in order to avoid sensitivity from the sun. In order to prevent any negative interactions, we also suggest alternating them with Retinol based serums.
KEY INGREDIENTS TO LOOK OUT FOR
GLYCOLIC ACID (exfoliant)
Derived from Sugar Cane, this exfoliant helps increase collagen production. Not only has the ingredient been linked to aiding elasticity and boosting levels of Hyaluronic Acid resulting in plumper skin, it's also known to increase cell turnover which leads to a visible reduction of signs of aging.
---
LACTIC ACID (exfoliant)
Naturally found in milk, Lactic Acid is often used in synthetic forms in skincare to maximize stability. The compound is known to be less irritating than Glycolic Acid and is especially great for those with sensitive skin. Other known benefits of the rejuvenating ingredient include it being hydrating and having smoothing properties.
Both Glycolic and Lactic Acid in serums should have a ph of above 3.5 and below 4.0 to maximize effectiveness and minimize damage. In terms of percentage, 10%-15% is a good range to find for most skin-types – 10% being better for more sensitive skin types while 15% is for the more resilient types.
RECOMMENDED SERUMS
First Aid Beauty Resurfacing Liquid ($55)
Through the combination of 10% Glycolic Acid with the likes of 3 other exfoliating ingredients (Lactic, Tartaric and Malic Acids) this anti-aging serum leaves skin refreshed.  Other key ingredients include Hyaluronic Acid, Colloidal Oatmeal, and Ceramides to help soothe skin.  Finally, the formula has as the antioxidants Vitamins C + E to help fight free radical damage.
---
Alpha Intensive Rejuvenating Serum ($18.04)
With over 14% Glycolic Acid, Alpha's fragrance-free anti-aging serum provides potent exfoliating power that may be too strong for sensitive skin types. The ph-correct formula (3.7) ensures effectiveness and has anti-irritants to calm skin including Green Tea & Matricaria (Chamomile) Extract.
---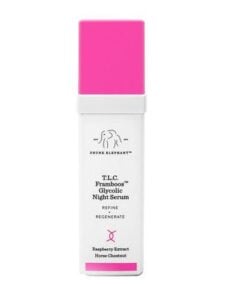 Drunk Elephant TLC Framboos Glycolic Night Serum ($90)
Although it's on the pricey side, Drunk Elephant's ph-correct formula (3.8-4.0) serum is well worth it. Incorporating both lactic and 12% glycolic acid and with the added bonus of 1% Salicylic Acid (great for breakouts) this night time gel serum makes for the ultimate dream combination of exfoliating ingredients. The serum is also packed with powerhouse antioxidants including Bearberry, Green Tea, Grape and Raspberry Extracts. Finally, the opaque pump style packaging minimizes product wastage and keeps active ingredients fresh.
---
Sunday Riley Good Genes Treatment ($158)
This cult favorite 5% lactic acid-based serum is an instant complexion booster. It also fights hyperpigmentation thanks to the inclusion of Licorice Extract. This treatment can either be used daily or as a mask when skin is in need of a radiance boost.
---
Paula's Choice Weekly Resurfacing Treatment ($35)
This 10% Glycolic Acid ph-correct (3.5) weekly treatment functions as a mild chemical peel. Antioxidants like Oat Kernel and Green Tea Extract help protect skin from inflammation and irritation while Licorice helps brighten. If you're looking for a gentler formulation that you can use more often the popular 5% Glycolic exfoliant might be a good idea.
BRIGHTENING SERUMS
Antioxidants are key ingredients in the quest for glowing skin. Not only do they help fight free radical damage a cause of premature aging but they also, help to calm inflammation, boost collagen synthesis and reduce fine lines as well as wrinkles resulting in an overall boost in radiance.
SIGNS
Brightening serums address age spots, brown spots, fine lines/wrinkles, redness, hyperpigmentation, dullness, and uneven skin tone.
WHEN TO USE
 As a general rule of thumb, Vitamin C based serums work well in the day as the ingredient boosts the abilities of sun protection agents, while Niacinamide should be used at night due to it being linked to causing negative interactions with some forms of Vitamin C ( in particular L-ascorbic acid).
KEY INGREDIENTS TO LOOK OUT FOR
VITAMIN C (Antioxidant)
Vitamin C reduces inflammation, combats the effects of the environmental damage including the UV rays and pollution, and helps control melanin production with the overall effect of healing uneven skin-tone. Popular forms of Vitamin C that are effective for skincare purposes include L-Ascorbic Acid and Magnesium Ascorbyl Phosphate. The anti-aging benefits are boosted when combined with Ferulic Acid and Vitamin E. Also note that Vitamin C is most effective and stable in skincare products when the formula's ph is between 2.5-3.5.
---
LICORICE EXTRACT (Antioxidant)
Known for being anti-inflammatory, Licorice Extract can help to fade dark spots while fighting free radical damage by producing Glabridin – a natural fighter against UV damage.
---
VITAMIN B3(Antioxidant)
In skincare formulas, Vitamin B3 mostly appears in either the form of Niacinamide or Nicotinic Acid and works to block melanin transfer to the outer layers of the skin. This results in a reduction of pigmentation issues – which show up as discoloration on the surface of the skin.
---
KOJIC ACID (Antioxidant)
A by-product from the Sake (Japanese rice-wine) making process that when applied topically inhibits the skin's melanin production resulting in brighter skin that appears more even.
RECOMMENDED SERUMS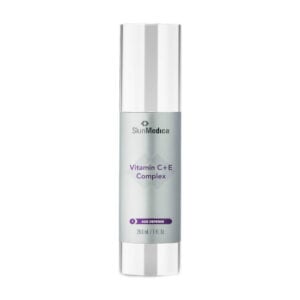 Skin Medica Vitamin C+E Complex Age Defense $102
By combining 2 forms of Vitamin C and E this unique fragrance-free formula provides long-lasting antioxidant support to the skin. In order to protect the ingredients from air and light degradation, the serum comes housed in an opaque pump based dispenser.
---
Arcona Brightening Drops $43
Arcon's fragrance-free brightening serum combines a variety of skin-beneficial ingredients such as Kojic and Lactic Acid with Vitamin C as well as Red Raspberry Seed extract known for its free radical fighting abilities.  Not only is the formula created in small batches in order to maintain the active ingredients freshness but it is also free of skin-irritants like parabens and dyes.
---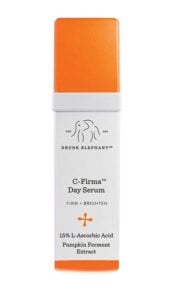 Drunk Elephant C-Firma Day Serum $80
This potent fragrance-free serum with a ph-correct 3.5, packs powerful anti-aging ingredients and is protected by opaque pump packaging. Along with 15% Ascorbic Acid, the formula also contains Vitamin E and Ferulic Acid. Other key ingredients include Licorice Extract for extra brightening power, GreenTtea to calm skin, Hyaluronic Acid to increase hydration, as well as the light Marula Oil to help seal some of that moisture into the skin.
---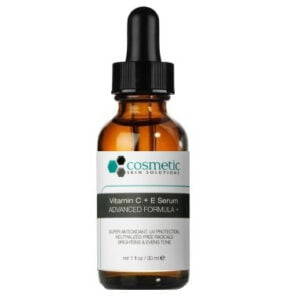 Cosmetic Skin Solutions Vitamin C+E Serum $39.95
One of our favorites on the market, this water-based serum (>3.5) combines 0.5% Ferulic Acid and 1% Vitamin E with 15% Vitamin C (ascorbic acid). It doesn't contain any oils, making it perfect to use under our anti-aging cream. The brand is committed to product effectiveness as they claim that they produce new batches of serums weekly.
---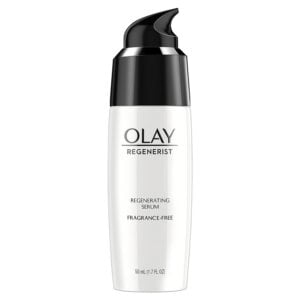 Olay Regenerist Regenerating Serum $19.29
By combining  Niacinamide with Matrixyl and antioxidants like Green Tea Extract Olay's fragrance-free Serum has powerful rejuvenation abilities. After application, the popular formula leaves skin hydrated without a feeling of greasiness.
---
SkinCeuticals C E Ferulic Combination Antioxidant Treatment $165
SkinCeuticals believes in this anti-aging serum so much they had it patented, meaning no other formula on the market have the same ingredients at the same ph level (3.0). The ingredients include 15% Ascorbic acid (Vitamin C), 1% Vitamin E and 0.5% Ferulic Acid, as well as Panthenol (Vitamin B5) to boost skin's moisture levels.
---
Paula's Choice Resist 10% Niacinamide Booster $42
Although this 10% Niacinamide (Vitamin B3) serum is marketed as targeting enlarged pores due to clogging and environmental damage, it also works really well for skin discoloration. The oil-free formula hosts additional antioxidant ingredients like Licorice to help brighten, and EGCG to soothe inflammation.
---
Cellex-C High Potency Serum $110
Made in 1994, Cellex-C's Vitamin C serum is considered to be "the original", and still, has a cult-like following to this day. The formula combines several powerful ingredients besides Vitamin C, inclusive of Green Tea Extract, Zinc as well as the amino acid Tyrosine in order to help even out skin-tone and repair of free radical damage.
---
Skin Medica Lytera 2.0 Pigment Correcting Serum $154
This powerful serum targets tough pigmentation issues and also combats other signs of aging.  Notable ingredients include Niacinamide, as well as  Tranexamic Acid, and Phenylethyl Resorcinol, both of which help even out skin tone.  The formula also has plant extracts, peptides, and Phytic Acid to aid the reparative efforts.
---
Not only is 100% Pure's formula organic but it is also cruelty-free.  Some of the serum's key ingredients include Aloe Vera known for its soothing properties, Magnesium Phosphate (a gentle form of Vitamin C)  and the nourishing Evening Primrose Oil that helps the skin heal.
---
Cosmetic Skin Solutions Phyto and Botanical Gel ($29.95)
By combining 3 powerful brightening agents: Kojic Acid, Arbutin, and Bearberry Leaf Extract Cosmetic Skin's Solutions serum help to target advanced discoloration issues.   The formula includes plant extracts from Cucumber and Thyme to help soothe the skin.
SMOOTHING & TIGHTENING SERUMS
 These types of anti-aging serums help with skin regeneration to not only improving skins' appearance and health but also how it functions.
SIGNS
These serums address fine lines/wrinkles, lack of firmness, sagging, and overall loss of elasticity.
WHEN TO USE
Generally, these types of serums should be used at night as there is a chance of instability when exposed to direct sunlight, specifically with Retinol. Proper application of sunscreen prevents this breakdown, but it's best to be on the cautious side since not all of us apply enough sunscreen as often as we should.
KEY INGREDIENTS TO LOOK OUT FOR
RETINOL (Antioxidant)
If you're not already using a prescription level type of Retinoic Acid (Retin-A or Renova), Retinol is another form of cell-communicating vitamin A – a good choice to help the skin replenish and rebuild. Retinol is effective from levels as low as 0.01% and the strength of the formula that you choose depends on the amount your skin can tolerate.  Read up more about the benefits of Retinol by reading our in-depth article.
---
NIACINAMIDE (Antioxidant)
An active component of vitamin B3, Niacinamide increases fatty acid levels in the skin while maintaining water, leaving the surface plump and full.
RECOMMENDED SERUMS
First Aid Beauty Retinol Serum ($58)
Perfect for those just starting out with retinoids this .25% Retinol formula is lightweight and fragrance-free.  The serum also includes a variety of potent ingredients including Vitamin C & E which are reparative antioxidants as well as skin replenishing Ceramides.
---
Replenix Retinol Plus Smoothing Serum 10X ($84)
Through a combination of Green Tea Extract, Hyulorunoic Acid, and Retinol this powerful formula targets signs of aging inclusive of skin laxity as well as wrinkles. Although this serum is aimed at skin in need of higher levels of Retinol if you're interested in less potent strengths Replenix also offers variations in 5X ($73.50), 3X  ($67.50)  and the most gentle, 2X ($58.80).
---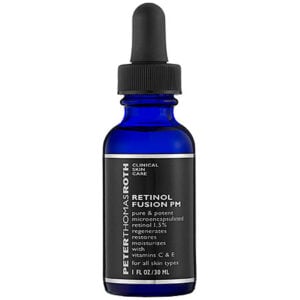 Peter Thomas Roth Retinol Fusion PM ($65)
This retinol (1.5 %) and silicone-based serum include antioxidants like vitamin C and E for inflammation reduction and reparation. Not only is the formula fragrance-free, it also includes ingredients such as Squalene that increase moisturizing power, making it a great choice for normal to dry skin.
---
Dr Dennis Gross Ferulic Acid & Retinol Serum ($88)
This fragrance-free serum combines the powers of the antioxidant Ferulic Acid, known for its ability to fight environmental damage, with Retinol. One of the added benefits of this formula is its brightening abilities that come from the inclusion of Arbutin, Bearberry Leaf Extract, Licorice Root, and Mulberry Leaf Extract.
---
Skin Medica Retinol Complex 1.0 ($93)
This lotion textured serum contains a potent cocktail of ingredients including 1% Retinol, Niacinamide, and Ceramides, as well as Peptides to boost moisture. The formula also comes in gentler strengths of  0.25% ($62) and 0.5% ($78) or those with more sensitive skin.
MOISTURE BOOSTING SERUMS
Hydration, in general, is key when it comes to combating the signs of aging. Serums that moisturize have multiple benefits inclusive of providing skin protection from environmental damage caused by the likes of pollution and UV rays, as well as helping it to act and look "younger".
SIGNS
These serums address dry or even oily skin (glands compensate for dryness by overproducing oil), tightness, dry patches, flakiness, and fine lines.
WHEN TO USE
These kinds of anti-aging serums can be used day or night. Some people find that they are beneficial for daily use while others find their skin only needs them during the drier months. When using Retinol-based skin care products, you may find they work most effectively alone but if your skin is sensitive, it may be good to use them in tandem with a moisture-boosting serum.
KEY INGREDIENTS TO LOOK OUT FOR
CERAMIDES (Occlusive)
Naturally found in the skin's outer layer, Ceramides help retain moisture levels and help the barrier to function properly. Research indicates that topical application of this Lipid can help balance dryness that develops with age. The ingredient is most effective when combined correctly (the proper ratio) with two other Lipids, Cholesterol, and Fatty Acids.
---
PEPTIDES (Antioxidant)
Theoretically, Peptides are small proteins that are composed of two or more Amino Acids. This ingredient functions as a moisture-binding agent with cell-communicating abilities that help the skin repair itself.  Some of the key ones to be on the lookout for include Matrixyl (Palmitoyl Pentapeptide-4 (formerly Palmitoyl Pentapeptide-3). Matrixyl 3000 (a combination of Palmitoyl Tripeptide-7 and Palmitoyl-Oligopeptide) and finally Matrixyl Synthe'6  (Palmitoyl Tripeptide-38).
---
VITAMIN B5 (Antioxidant)
Vitamin B5 is often found in the form of pantothenic acid or Panthenol in formulas. Both ingredients help increase hydration levels but Pantothenic Acid has been linked to helping acne as well wound healing, while Panthenol boosts collagen production.
---
HYALURONIC ACID (Humectant)
This ingredient is skin-identical (i.e. one found naturally in the skin) and often appears in formulas in salt forms like Sodium Hyaluronate. Hyaluronic Acid helps fight inflammation and also helps with collagen production and maintains skin's moisture levels.
---
GLYCERIN (Humectant)
Another skin-identical ingredient, Glycerin pulls in water from the atmosphere to increase the skin's hydration levels and has also been linked to helping cells function healthily.
As noted above, humectants can be over-drying when the percentage is too high for what your skin can handle and/or in dry climates. The solution would be to pick products that have lower levels in the formula (lower on the ingredient list) or by using an anti-aging cream that contains other occlusive ingredients to balance out the effects.
RECOMMENDED SERUMS
Glo Beauty Daily Hydration Serum ($61)
By combining Vitamin B5 in the form of Vitamin B5 with Hyaluronic Acid & the unique Pentavitin (Saccharide Isomerate)  this serum provides an intense and long-lasting hydration boost.  Other benefits include that the serum easily sinks into the skin serums easily sinks and is absorbed fast.
---
Drunk Elephant B Hydra-Intensive Hydrating Serum ($52)
This unique water-based gel serum combines Panthenol (vitamin B5) with antioxidants including apple that helps skin heal, bearberry to brighten, and watermelon which is known for its ability to fight free radicals. Since the formula lacks oils and silicones, it leaves skin hydrated without tackiness or greasiness.
---
Cosmetic Skin Solutions Hydra B5 Gel ($29.95)
Made up of mostly Water, Pantheonic Acid, and Sodium Hyaluronate, the simple nature of this serum makes it perfect to replenish skin and, in particular, sensitive skin types that need lightweight and fast-absorbing hydration. In some cases, due to the formula's levels of Sodium Hyaluronate, this serum is perfect for layering with an anti-aging cream.
---
First Aid Ultra Repair Hydrating Serum ($36)
In addition to the strong mix of Antioxidants, Ceramides, Peptides, and Humectants, the price point on this gel serum makes it particularly appealing. Key ingredients include Panthenol, Hyaluronic acid to boost moisture levels, Licorice Extract to brighten, and purified Feverfew which is an antioxidant known for its abilities to minimize redness.
---
The Ordinary Matrxyl 10% + HA $12.50
The Ordinary's popular serum boosts  Hyulornic Acid's (in its salt form Sodium Hyaluronate)  hydrating abilities by combining it with the peptides Matrixyl 3000 as well as Matrixyl Synthe'6 (for a combined concentration of 10%).  Not only is the formula free of fragrance but it is also sans skin irritants like parabens and mineral oil.
---
Paula's Choice Resist Hyaluronic Acid Booster ($48.95)
This fragrance-free serum is not only fast drying, it also combines both Hyaluronic Acid and Sodium Hyaluronate to maximize hydrating effectiveness. Superstar ingredients like Adenosine help calm the skin, while Panthenol boosts moisture levels and multiple Ceramides help the skin barrier to function properly.
---
Cellex-C Hydra 5 B-Complex Serum ($75)
This popular gel serum is oil-free and targets signs of aging inclusive decreasing elasticity as well as lines and wrinkles. Key ingredients in the formula that help boost the skin's radiance and hydration levels include Hyaluronic Acid as well as Vitamin B5 in the form of Pantothenic Acid.
---
PCA Skin Hydrating Serum ($75)
This light-weight serum not only boosts hydration levels with moisture boosting ingredients like Hyaluronic Acid and  Vitamin B5 (Panthenol) but also targets skin discolorations through Vitamin B3 (Niacinamide).  The formula is free of skin irritants like synthetic dyes and fragrances a well as parabens.
---
SkinCeuticals Hydrating B5 Gel ($82)
A cult favorite this Pantothenic Acid Serum is popular due to its hydrating properties and simple formula.   Key ingredients include the namesake ingredient (Vitamin B5) as well as Hyaluronic Acid.
---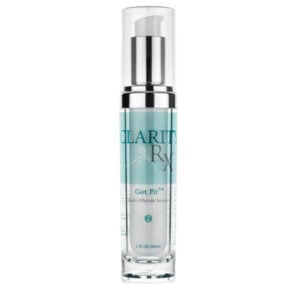 ClarityRX Get Fit Multi-Peptide Healthy Skin Serum $105
Clarity'sRx Get Fit Serum is a cult favorite with good reason.  The formula combines skin-beneficial ingredients like Hyaluronic Acid with 6 peptides inclusive of Palmitoyl-Tripeptide and Palmitoyl-Oligopeptide (Matrixyl 3000) to not only improves the way the skin looks and feels but also the way it functions.
THE IMPORTANCE OF ANTI-IRRITANTS IN SERUMS
By minimizing inflammation as well as irritation these types of ingredients (most often antioxidants) help reverse the impact on our skin from habits and lifestyle choices. They prevent and reduce the damage of free radicals and go a long way in aiding our skin's ability to cope with pollution, stress, and harsh skincare products.
Common anti-inflammatory and anti-irritant serum ingredients may include:
VITAMINS
Certain Vitamins like C, B, and E are extremely effective for preventative anti-aging in serums as the molecules are small and can be absorbed easily by the skin. Check out our guide if you're interested in discovering more about the most effective topical vitamins you should be applying.
PLANT EXTRACTS
Great for sensitive skin, plant extracts can help to soothe the epidermis (top layer of skin). Keep an eye out for ingredients like Chamomile, Licorice Extract, Oat Bran Extract, Oatmeal, Resveratrol as well as Black, White and Green Tea.
INGREDIENTS TO AVOID
Certain ingredients are best used in limited quantities or even not at all as they do more harm than good.
MINERAL OIL/PETROLEUM
Besides being known carcinogens, Mineral Oils or Petroleum Jellies are often used as filler ingredients in serums in lieu of natural oils. They are linked to causing clogged pores and also premature aging.
PHTHALATES/SYNTHETIC FRAGRANCES
Often used to create a synthetic Fragrance, Phthalates are also considered a possible carcinogen and may cause skin sensitivity, dryness, and other negative reactions.
HOW LONG SHOULD SERUMS LAST?
Generally speaking, serums should be used up within 3 months – especially in the case of those packaged in dropper applications.
EXPLORING PRODUCT PACKAGING
AIRTIGHT
Oxygen is a free radical, that causes active ingredients like antioxidants to become unstable. Airtight packaging creates a barricade so your serum stays effective.
DARKNESS
The most beneficial ingredients can also be the most delicate and often deteriorate from exposure to air and light. Seek opaque packaging and store in a cool and dark place in order to protect these ingredients.
DROPPER APPLICATION
Although it might not be ideal for protecting ingredients that are sensitive to the elements, it makes sense for some types of formulas as they are very fluid. In these cases, bottle openings should be small to minimize exposure.
FINAL THOUGHTS
Although serums are a great addition to any preventative anti-aging skincare routine, everyone's skin has different needs. You know your skin best so make sure to assess to ensure you pick the right products for the aging concerns you're trying to address. Keep in mind that more isn't always better – you don't need to use every type of treatment you come across to have great skin.