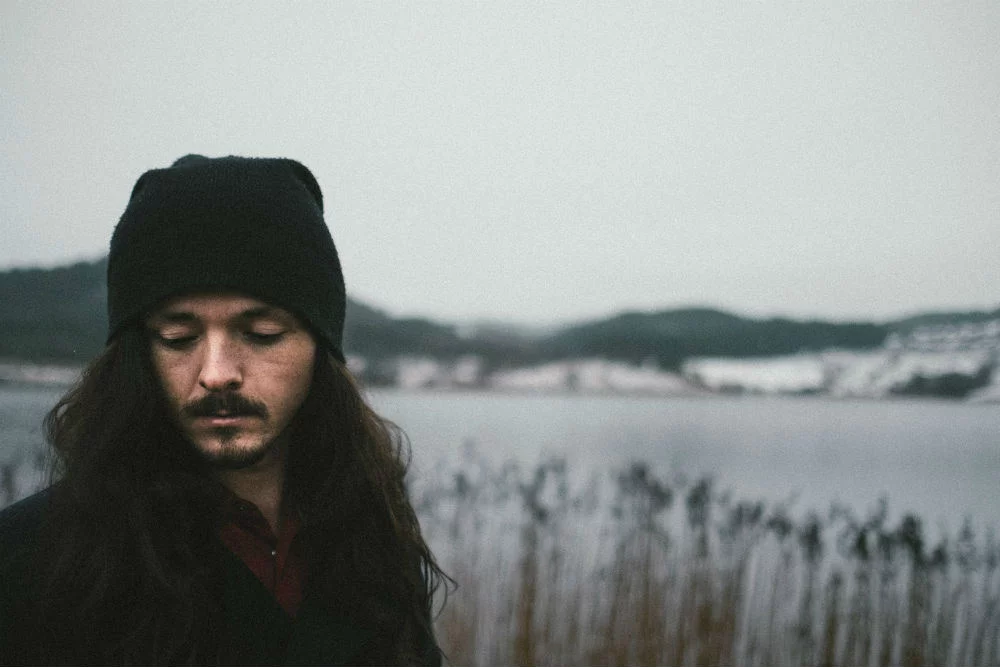 Coming to a hipster neighborhood near you: The 'Stache. You might have noticed that the beard trend has expanded its reach to include mustaches. Every third cuffed-jean, plaid-shirted, Macklemore-coiffed hipster you see is now sporting a mustache, and really great ones at that! But how do you get that same awesome look? It's not a matter of growing it and letting it do its thing – just like your beard, maintaining a good-looking 'stache takes work (and probably more so in terms of styling). Luckily enough, many of the products formulated for beards can also be used on your upper lip, and there are other products made specifically for that bit of your mane. Mustache oil and wax are just two of these fine products and we'll give you the low-down on how they can help you go from Yosemite Sam to Tom Selleck in no time.
WHAT ARE THEY AND WHY DO YOU NEED THEM? 
Mustache oil and mustache wax are two very different products used for very different needs. You can use them separately depending on whether you're looking for a silky mustache or a styled mustache or you can use them together, claiming the benefits of both.
MUSTACHE OIL
Mustache oil is essentially beard oil, but it's great for keeping your mustache shiny, healthy and tangle-free too. The oil acts as a leave-in conditioner that hydrates and conditions to soften your hair and nourish the skin under your 'stache. It'll help keep those stray hairs under wraps and, as a bonus, they usually smell fantastic.
If you're new to the mustache game, you may notice irritation in the early stages of growth. Using mustache oil on the reg will help soothe those irritations too.
Last but certainly not least, using beard oil on your 'stache will hinder the development of beardruff (yes, this can happen to your mustache too! There's just no fancy name for it).
Make sure to check out our article for a more in-depth exploration of beard oil benefits.
COMMON MUSTACHE OIL INGREDIENTS TO LOOK OUT FOR
Most good quality mustache oils share common ingredients. You'll usually find one of the following, or a combination of more than one of these: grapeseed, argan, tea tree, and/or jojba. These will make up the base of your oil, with the exception of tea tree which is an essential oil added for its anti-fungal and anti-bacterial properties.
Some mustache oils contain chemical ingredients in conjunction with natural ones and others are all-natural. While results may not be as quick with all-natural products, ultimately they are better for your skin, hair and environment in the long run.
Good to know: oil that uses natural essential oils for the fragrance won't last as long as your typical synthetic fragrance-based product.
HOW TO USE MUSTACHE OIL
The one major difference between using beard oil on your beard and on your 'stache is the amount that you use (isn't that obvious?). The average mustache requires 3-5 drops of oil per day – so with a one-ounce bottle, you'll have oil for 100 uses!
The way you apply the oil is almost exactly the same, though. Place the appropriate number of drops in your palms and rub them together to warm the oil. Massage the oil into the skin beneath your mustache to ensure your conditioning the hair follicle and then spread it throughout the hair itself.
The best time to apply your oil is after washing it because your follicles and pores are still warm and open so they can easily absorb the product you're using. You can (and should) use your oil on a daily basis. Mind you, if you live in a humid climate you can get away with using it less often. If you're in a place that experiences any kind of winter or dryness, you'll want to stick to that one-per-day rule (or even more often).
PRODUCT RECOMMENDATIONS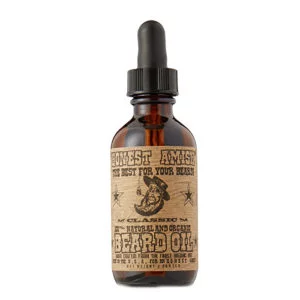 Honest Amish Classic Beard Oil ($13.85)
This beard oil can be used on your mustache to provide the same nourishing, soothing benefits. Formulated with natural and organic oils, including all the typical suspects: argan, jojoba and seven essential oils.
---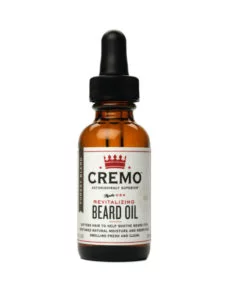 Cremo Unscented Revitalizing Beard Oil ($8.52)
For people who are sensitive to scents or experience irritation with other beard oils, this oil contains only non-fragrant oils and is paraben-free. Cremo comes in an amber glass bottle that will ensure its longevity. It's formulated with sunflower, avocado, jojoba, argan and coconut oils to reduce dryness and itchiness as well as provide extreme moisture to your moustache and the skin hiding underneath.
Explore our review of all the benefits of Cremo beard oil if you're looking to learn more.
MUSTACHE WAX
If you have a mustache already or you're thinking about growing one you can't just let it grow willy-nilly – you need to style it and keep it in place or risk looking like Yosemite Sam (great cartoon, not a great look). To style your 'stache you're going to need a mustache wax: stiff pomade that is used to groom, style and hold your hair where you want it. If you use it often enough you can actually train your hair to part away from your mouth so you're free to stuff it full of burgers, pizza and messy food like saucy, delicious chicken wings.
Because of its thick consistency, it also acts as a protective barrier against environmental damage and, of course, any of the aforementioned foods getting stuck in it. Some higher end waxes will also contain ingredients to make it darker which gives the appearance of a thicker, healthier 'stache.
While waxes can come in different scents, they are more subtle than oil. On the flipside, they provide more hold than oil, which you'll need for sculpting the perfect 'stache.
COMMON MUSTACHE WAX INGREDIENTS TO LOOK OUT FOR
You'll usually find one or more of the following in a good quality wax: beeswax, coconut oil, shea nut butter, petroleum jelly (Vaseline), pine resin, tallow and scented oils. They are more-often-than-not scented and pigmented with dyes. Some of the really high-end waxes will use combinations of iron oxide to create darker shades that make your mustache look thicker. For increasing the amount of hold some waxes add gum arabic, which makes the product more expensive (but it's worth the extra dinero).
HOW TO USE MUSTACHE WAX
Wax is a bit different from most facial hair products in that it's not your typical cream that you can dip into – you actually need to use a fingernail to scrape the wax from its container to your hand. Pro tip: you can use a hair dryer to heat up the wax and make it more manageable (but don't overdo it or you'll completely melt your wax. Try setting it to low and holding it four or five inches away).
Generally, you'll want to use less than a fingernail's worth of wax. Once you've managed to ply it from its container, rub the wax together to warm it up and then apply it from the center of your mustache toward the ends, moving with the direction your hair grows rather than against the grain. You can use a fine-toothed comb to work it through evenly.
If you want the handlebar look you need to apply more product (about double the amount) and twist the edge of your hair into a point. For a more natural look, don't twist the ends and blowdry your 'stache on high heat/low speed to blend it. Finish that off with a blast of cold air which will help keep your shape.
One thing you might want to consider if you're using mustache wax is a wax remover and conditioner. Washing your 'stache with plain old soapy water can indeed remove build-up but it also damages the bristles of your mustache by removing naturally-produced, moisturizing sebum.
PRODUCT RECOMMENDATIONS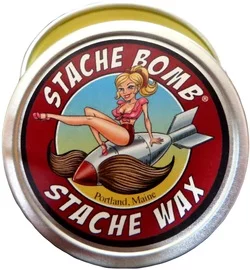 Stache Bomb Stache Wax Mustache Wax $8
If the handlebar mustache is your jam, this wax was specifically formulated to help you achieve that look. With its manly pine scent that is neither over- nor under-whelming, this wax is handmade in Maine and will provide you with the ultimate in hold and sculpting.
---
Firehouse Moustache Wax $17
This wax is easier to apply than most (it was formulated specifically with consistency in mind). It's made in really small (and we mean REALLY small) batches – it's handmade and hand poured by the same dude that created it! Using beeswax as the active ingredient, this wax is the real deal and it's also vegetarian-approved.  The one highlighted above is made for brownish hair color if your beard is lighter colored  (blonde/gray/white) check out this one.
FINAL THOUGHTS
The 'stache is back and in a big way but don't let their abundance fool you into thinking you don't need to maintain a regular grooming routine. If softening and conditioning are what you're looking for, mustache oil is what you need. If hold and sculpting is your main concern, then you need to get yourself a mustache wax. Regularly using both will take care of the skin under your mustache and the hair itself as well as allow you to sculpt the look you're going for.