You know when you find a mirror with really great lighting and you get an up-close, clear look at your skin and then you notice all the little imperfections, including your blackheads?  So you start picking at them and half an hour later you pull yourself away and remember where you are and that you were supposed to be at dinner 20 minutes ago? You're not the only one, we've all been there. The trouble is, getting rid of blackheads in this way is actually really damaging for your skin.
Luckily, we're here to help you learn the best DIY blackhead extraction methods.  We've gone ahead and done our homework on the best blackhead removal tools, treatments, and even skin care products to give you the ultimate guide on all things blackhead removal.
WHAT ARE BLACKHEADS?
Before we dive into these DIY methods, let's start off with the basics in order to get a better understanding of what a blackhead actually is.
The follicles of your skin contain hairs as well as sebaceous glands which are responsible for producing sebum (or in layman's terms: oil) the substance that helps keep skin hydrated, soft and moisturized in general. The problem is when dead skin cells, dirt, and oil collect in the openings of your skin follicles, comedos which are the beginning of a pimple begins to form. If the skin over a comedo stays closed it eventually results in what is commonly known as a whitehead, while if the skin over the comedo remains open, the interior goes through a process of oxidization and as a by-product darkens (hence the name) eventually resulting in a blackhead.
Blackheads aren't painful like pimples, and they are generally less inflamed than whiteheads. You're most likely to see them appear on your face, specifically within your T-zone as this is the area that is most prone to them. You may also spot blackheads on your back, chest, neck, arms as well as your shoulders.
Many people are scared of removing blackheads, but when you use the right tools (and treatments) with the correct technique extraction is safe.  Truth be told, picking your blackheads aggressively is probably the worst thing you can do to your skin.  Explore our guide on blackhead prevention below to find out how to stop them from even forming.
WHAT IS A BLACKHEAD REMOVAL TOOL? 
Also commonly known as a blackhead extraction tool, this long thin skin instrument you may have encountered at your facialist is used to remove the plugs that cause blackheads.  When used correctly this type of tool is one of the most effective ways to DIY extract blackheads at home.   Probably the most important tip to keep in mind with blackhead removal on your skin is to keep a low-pressure gauge (aka don't apply too much force) in a bid to avoid potential damage (bruising, scarring, etc).
THE MAIN TYPES OF BLACKHEAD REMOVAL TOOLS
Below we cover the 6 most common blackhead extraction tools:
FLAT LOOP 
The Flat Loop, dislodges blackheads while minimizing the chance of damage to the skin.  Often makes sense for larger blackheads.
SMALL LOOP 
One of the most common types of extractors,  this (often) oval-shaped tool works well when used correctly (aka with a gentle touch) for removing the contents of smaller blackheads.
ANGLED LOOP
The Angled Loop, aka the larger version of a small loop, is commonly used to combat a group of blackheads as well as more stubborn deep ones.
SPOON
Shaped like a "spoon" (or a mini cup)  with a hole in the middle, this blackhead removal tool works well for deeper blackheads.  It's important to note that this kind of blackhead extraction tool has the potential to damage the skin if used with too much pressure.
EYE LOOP
Like the spoon tool above, this circular blackhead extraction tool that is often made with extremely thin metal should be avoided (unless you're a seasoned DIY blackhead removal pro) as its one of the types of tools to most likely damage the skin.
LANCET
A Lancet is essentially a (fairly thick) needle that is used to puncture the top of whiteheads and acne in order to break them open.  We do not recommend using this kind of tool for DIY extractions, especially for blackheads as they can potentially cause a lot of damage to the skin.
HOW TO PICK OUT A BLACKHEAD REMOVAL TOOL?
Below are 4 key things to consider to ensure you pick the best blackhead extraction tool:
High-quality stainless steel
Tools with good customer reviews
Thicker loops as ones that are too thin have more potential to damage skin (puncture, indent, bruise).
Easy to clean to minimize infection
THE BEST BLACKHEAD REMOVAL TOOLS
Below is a selection of some of the best blackhead removal tools we've researched and tested:
Tweezerman No Slip Skin Care Tool $9
Tweezerman's blackhead removal tool is extremely popular among professional estheticians and in spas as a way to safely extract both blackheads as well as whiteheads.  This two-sided tool features a small loop on one side and a larger angled loop on the other to easily remove blackheads without damaging skin.  To use, just put the small loop over the area of skin you're looking to treat and gently apply pressure to the side of blackhead.  If this doesn't work repeat this process again on the other side of the blackhead.  Alternatively, for larger blackheads or for a group of them utilize the larger angled loop instead.  This tool is super easy to clean and because it's 100% stainless steel, you don't have to worry about it corroding.
---
Bestope Blackhead Removal Kit $8
If one blackhead removal tool doesn't seem like it can cover the variety of skin concerns you'd like to address, then consider Bestope's popular stainless steel kit that contains five of them with ten different heads. For those of you who are unsure of how to use all of these tools, this kit also comes with diagrams of how each one works.
---
Nuvederm MicroDerm GLO Mini $69
Although not a "traditional" blackhead extraction tool like the other two on the list, Nuvederm's minimally invasive Microdermabrasion device will not only safely combat blackheads (through removing the dirt and oil that clogs pores) but also has a variety of other longer-term benefits that serve as a preventative measure to new blackheads forming. The FDA approved tool's diamond tip treats rough skin, discoloration, dead skin cell buildup, enlarged pores, and fine lines while also improving skin firmness and elasticity.  With 3 treatments per week, you should start seeing results within 2-4 weeks.  Alternatively, if you're looking for a more sophisticated option that includes an LCD guide as well as more features consider the Microderm Glo ($199).
Both devices come with a 100% satisfaction guarantee, meaning if you're not happy with your results you can get a full refund.
If you're interested in learning more about the benefits of microdermabrasion inclusive of more on how it works and what it does be sure to check out our in-depth overview.
BEST SKINCARE PRODUCTS FOR BLACKHEADS
Keeping your skin clear of blackheads means adopting the right skincare routine. To fight blackheads properly, you need to keep your pores clear of dead skin cells, dirt, and other built-up bacteria. With the right cleansers, toners, and treatments, you can clear your pores, balance excessive oil, and restore the surface of your skin. And the key to great blackhead-fighting products is great ingredients.
BEST CLEANSERS FOR BLACKHEADS
In a cleanser that targets blackheads, look for BHA's like salicylic acid. What might also be listed as willow bark extract, salicylic acid helps unplug clogged pores.
Glycolic acid is an AHA that's made from natural sugar molecules and is commonly found in acne-fighting cleansers. It works to break down the dead skin cells, oil, and dirt, trapped in your pores.
Azelaic acid is another acidic ingredient you'll want to look for. This yeast-derived ingredient not only targets blackheads, but it also restores skin tone. That means it will help clarify your complexion and reduce the appearance of brown spots left behind by blemishes and acne.
Choose from any of the following cleansers for the benefits of these blackhead-fighting ingredients and more.
Eminence Clear Skin Probiotic Cleanser $38
This powerful cleanser balances problematic skin with an astringent complex that's antimicrobial and antibacterial but it also clears clogged pores with the exfoliating properties of willow bark extract and lactic acid derived from yogurt. But for an all-around cleanser that cleans, tones, and moisturizes, the formula also boasts the toning benefits of cucumber juice and hydrating sweet almond milk.
---
Boscia Detoxifying Black Cleanser ($30)
Activated charcoal is able to pull dirt and grime from deep within your pores. It detoxifies the surface of your skin, removes impurities, and prevents breakouts. And this warming cleanser does all that with a little extra heat to help open your pores – but it doesn't hurt when creating that in-home spa vibe that makes cleansing your skin oh so luxurious.
---
Mario Badescu Enzyme Cleansing Gel $24
For something a little different, this gel cleanser is non-foaming and it works as a makeup remover as well as a cleanser. Oil-free and perfectly balanced for breakout-prone skin, this cleanser harnesses the exfoliating power of papaya and citrus enzymes to wash away impurities.
---
Murad Clarifying Cleanser $30
This gel cleanser contains encapsulated salicylic acid for a slow-release that your clogged pores will benefit from all day long. The potent blend of active acne-fighting ingredients – including 1.51% salicylic acid and lemon, lime, and mandarin peel oil – is tempered by the anti-inflammatory and soothing benefits of green tea extract and black cobosh. Specifically formulated to target acne, you only need a small amount of this cleanser to get the job done.
---
Paula's Choice Acne Cleanser $13
A good acne fighting cleanser has to scrub your pores clean while maintaining hydration levels – and this cleanser does exactly that. A combination of salicylic acid and citric acid removes everything from dead skin cells to dirt and makeup, leaving pores free of impurities that cause breakouts. At the same time, the soothing gel cleanser infuses the skin with moisture and calms inflammation.
---
Tata Harper Regenerating Cleanser $82
Made without soaps, alcohols, and detergents that contain harmful ingredients that also dry out your skin, this cleanser is made with fresh and natural ingredients that minimize the appearance of pores, protect the skins moisture barrier, purify your pores, and polish your complexion. The well-balanced formula contains enzymes, clays, and essential oils that not only clean your skin – they improve it.
---
First Aid Beauty Skin Rescue Deep Cleanser With Red Clay $24
The stand out ingredient in this deep cleanser is red clay, which is capable of lifting and absorbing impurities away from the surface of the skin to treat current blemishes and prevent them in the future. Bringing together the clarifying properties of red clay, the toning benefits of rosemary leaf oil, and the antioxidant power of licorice root, feverfew, and white tea extract, this cleanser cleans your skin and protects it for hours after you've rinsed it away.
---
COSRX Low Ph Good Morning Cleanser $10.20
This perfectly balanced morning cleanser has a pH that nearly matches the surface of your skin. Formulated at a precise equilibrium between 5.0 and 6.0, it helps control your bodies natural oil production and, by extension, control breakouts. Balanced pH is further enhanced by the antibacterial and antimicrobial properties of tea tree oil as well as the resurfacing benefits of a very unique BHA known as Betaine Salicylate.
 BEST EXFOLIATORS & FACIAL MASKS FOR BLACKHEADS
A key element of fighting blackheads and breakouts is exfoliation. Exfoliating the skin's surface removes built-up dead skin cells, dirt, and oil that causes your pores to clog and incrementally sheds the top layers of the dermis to reveal the smooth, fresh skin underneath.
Regularly incorporating exfoliation into your skincare routine helps boost the body's natural shedding process to prevent blackheads well before they occur. And mask treatments that are applied to your skin for extended periods of time infuse your skin with skin beneficial ingredients that clarify impurities, moisturize, and protect.
Look out for glycolic acid and salicylic acid in leave-on products because the longer your skin is exposed to them, the better they work. Retinoids like Retin-A or Retinol also help with blackhead management, but they typically take 2-6 weeks to start working.  By boosting healthy cell turn over these types of topical skin care treatments make for a good preventative measure against blackheads as well as a treatment for the ones that are already there.
Aztec Secret Indian Healing Clay $10.95
If you're willing to deal with a little redness, this extremely powerful 100% natural calcium bentonite clay cleans so deep into the pores it should only be used for 5 to 10 minutes at a time. And it can be used for so much more than a purifying mask – it's multiple uses include facials, body wraps, clay baths, foot soaks, knee packs and insect bite relief.
---
Andalou Naturals Kombucha Enzyme Exfoliating Mask $13
Kombucha isn't just a probiotic for your belly – it's also a gentle exfoliator that's great for targeting built up dead skin cells. Combined with willow bark and other topical enzymes, this mask is an exfoliating wonder with naturally derived, non-GMO ingredients that are sustainably sourced and cruelty-free.
---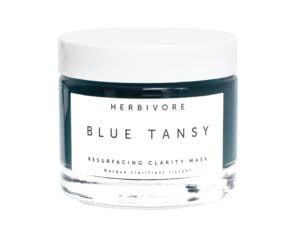 Herbivore Botanicals Organic Blue Tansy Resurfacing Mask $48
This Herbivore Botanicals mask utilizes both AHA's from fruit enzymes and BHA's from white willow bark to clear your skins imperfection – whether those are inside your pores or on the surface of the skin. While the hydroxy acids fight acne and resurface your skin for a smoother complexion, the rare blue tansy oil soothes the skin and reduces any redness and irritation that results from that hard work.
---
Juice Beauty Blemish Clearing Peel $39.90
A peel so potent it's won awards for its ability to clear blemishes, even skin tone and texture, and rejuvenate a dull and dehydrated complexion. A peel that works with malic acid from organic apples, tartaric acid from organic grapes, and citric acid from organic lemons, it not only helps you achieve clear skin goals, it also repairs and heals damaged and/or aged skin with high concentrations of vitamin C.
BEST TONERS FOR BLACKHEADS
The purpose of a toner is three-fold: they remove excess oil, rebalance your skin's pH, and restore hydration. That's why a good toner is incredibly important to preventing breakouts. They ensure that your skin is properly balanced and hydrated after a cleanser has stripped some of the natural oils your body produces. That also prepares your skin to absorb the active ingredients found in the serums, oils, and moisturizers that follow your cleansing routine.
avoid toners that contain harsh astringents like alcohols. Astringents work by removing the oil on your skin and harsh astringents can remove all of your skin's natural oils. This can trigger your skin to overproduce oil and create more blackheads. Instead, look for toners which contain natural and gentle astringents like rose water, witch hazel, green tea, and apple cider vinegar.
When it comes to toners, look for natural ingredients that hydrate, balance, and soothe, such as: aloe vera, tea tree oil, witch hazel, and rose water. And be sure to avoid astringents like alcohols that strip your skin of its natural oils.
Better yet, choose from one these top toper products for blackheads.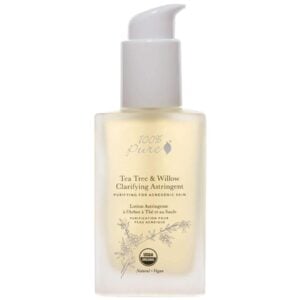 100% Pure Tea Tree & Willow Clarifying Astringent $39
Specifically designed for oily, acne-prone skin, this calming and soothing astringent is best for skin that's easily irritated. 100% Pure uses only non-toxic, USDA certified organic ingredients, in their gentle creations that pack a lot of power. In this formula they've blended tea tree oil and willow bark extract for anti-inflammatory relief with hyaluronic acid and algae to protect your natural moisture barrier.
---
Thayers Alcohol-Free Witch Hazel Toner $8.79
A cleansing, toning, and moisturizing toner that's formulated without alcohol or other irritating ingredients, Dr. Thayer's has a 170-year history of designing natural remedies that utilize the healing plants mother nature gave us. This witch-hazel toner contains tannins for an antioxidant boost that protects your skin, filet of aloe vera for healing and hydration, and witch hazel for the gentlest natural toner you can find.
---
Murad Clarifying Toner $24
When you're specifically targeting acne with your toner, Murad has the product for you. Made with witch hazel and natural botanicals, his toner controls excessive oil and balances the oil production process, but it also tightens your pores, minimizes their appearance, and adds a refreshing element to your cleaning regiment.
---
Mario Badescu Glycolic Acid Toner  $18
With high concentrations of glycolic acid, this toner continues the job of your cleanser by digging deep into your pores and removing built up dirt and other debris. If you struggle with acne as well as aged skin, the anti-aging benefits of glycolic acid, papaya extract, grapefruit, will revitalize your complexion and restore an even skin tone and texture.
Interested in finding more options? Read our guide on the best natural toners to learn more.
BEST SERUMS AND TREATMENTS FOR BLACKHEADS
Once your skin has been cleansed, treated with a mask, and toned, you'll want to finish up with a serum and/or treatment. The purpose of a serum of treatment is to rehydrate the skin and help your body produce oil in a balanced way. They might also provide an added layer of antibacterial and antioxidant protection that prevents future breakouts and damage to your skin.
KYPRIS Natural Clearing Facial Serum $67
Kypris is a luxury line of holistic skincare products that use only the best quality organic, wildcrafted, high performance, and sustainably sourced ingredients. Their new and improved facial serum formula now contains quinoa extract, which adds vitamin E and 8 essential amino acids to this list of star ingredients that includes: zinc for sun protection, lilac for blemishes and inflammation, and chaparral for antioxidant protection.
---
Paula's Choice Skin Perfecting 2% BHA Liquid Exfoliant $27.5
With 2% Salicylic Acid Paula's Choice popular exfoliant is specifically formulated for the treatment of blackheads, enlarged pores, and breakouts in general.  Gentle enough to be used on a daily basis, this leave-on exfoliant will also improve skin clarity, texture, as well as hydration.
---
Osmia Organics Balance Facial Serum $50
Gentle and light enough for use after cleansing both morning and night, this pump-action serum recalibrates your body's oil production for a more balanced skin surface with less excess oil and skin cell buildup. Organic ingredients like olive squalene and kukui oil give your skin the nourishment it needs after a cleansing routine, especially when combined with the vitamins and minerals of black seed oil and black cumin oil.
---
Obagi360 Retinol .05 $54
Retinol is a cell-communicating agent that combats an assortment of skin concerns inclusive of discoloration, fine lines and wrinkles, uneven skin texture, and even blackheads and severe acne. This vitamin A derivative refines all aspects of the skin's surface for a heathier, clearer complexion. A retinol-based product typically takes approximately 2 to 6 weeks to begin working, but once it does, you'll notice a visible improvement.
---
Jan Marini Skin Research Bioglycolic Bioclear Face Lotion $72
A preventative treatment for all skin types, from normal to sensitive and acne-prone. This lotion blends glycolic, azelaic, and salicylic acid into a leave-on conditioning and nourishing moisturizer that fights blackheads throughout the day. But that's not all – that potent infusion also fights the visible signs of aging, including fine lines, wrinkles, and discoloration.
---
Pai All Becomes Clear $78
Use this antibacterial, ant-inflammatory, and antioxidant serum 1-2 times per week or for an entire week of intensive skin correction. It targets skin congested with blemishes and blackheads and prevents their formation by regulating your body's balance of oil. Also formulated with zinc to control the shine of oily skin as well as hyaluronic acid to restore suppleness and surface texture.
Looking for some other options read our guide on natural and organic toners.
BEST FACIAL STEAMERS FOR BLACKHEADS
In order to release sweat, your pores have to open wide. That's basically how a facial steamer works to keep your pores clear of debris that builds up over time. A steamer sprays warm steam onto your face and the heat from the steam causes your skin to sweat. Debris is swept away with the sweat, but it's the added ingredients in these facial steamers that really clean out your skin. Plus, using a facial steamer makes it much easier to extract existing blackheads.
Pure Daily Care Nano Steamer $38.50
A 3-in-1 that can be used for facial steaming, humidifying a room, and warming towels for an extra luxurious pore-opening experience, this steamer also comes with a blackhead and blemish extractor kit. It uses a conventional heating element and an ultrasonic vaporizer to create nano steam that's negatively charged with ionic particles that penetrate the skin more effectively than regular water particles.
---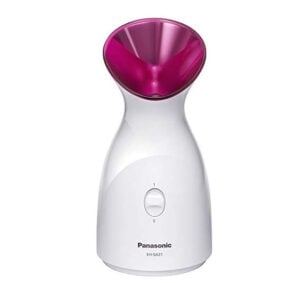 Panasonic Spa-Quality Facial Steamer $90
In just 6 minutes, this handheld facial steamer removes makeup, dirt, bacteria, and other elements that clog your pores. Quick and easy enough for use as part of your morning skincare routine, the Panasonic facial steamer utilizes nano steam technology that penetrates the skin's surface to open up your pores and adds much needed hydration at the deepest levels of your dermis.
---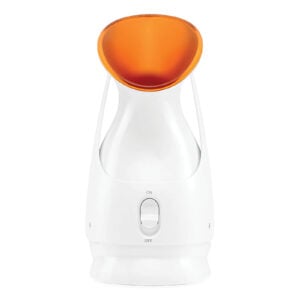 Dr. Dennis Gross Pro Facial Steamer $149
A professional-grade steamer that gets your skin primed and ready for any aftercare treatment of your choice, including exfoliators, peels, toners, and serums. As little as nine minutes can improve your complexion as well as the effectiveness of your other skincare products.  Fans of this steamer, revel in it's long lasting durability as well as the results it delivers.
One of the best ways to get rid of blackheads is with a facial, discover the different types of facials in our guide.
SHOULD YOU REMOVE A DEEP BLACKHEAD YOURSELF?
Deep blackheads, aka the ones that are stubborn, are hard to remove because the oil is tightly sealed in your skin follicles.  If they are not extracted correctly the process may end up leaving you with a scar.  Make sure you follow all the steps in our (below) blackhead removal guide before attempting to extract this type of blackhead.
5 STEPS TO PREVENT AND REMOVE BLACKHEADS
The best way to deal with blackheads is to do what you can to prevent them from forming. But when the inevitable blackhead makes its way to the surface of your skin, you can manually remove them – but you should so with the utmost care so as to protect your skin from damage.
A good prevention and treatment regimen follows these 5 simple steps:
1) CLEANSE
Remember that blackheads are caused by clogged pores. And your pores get clogged with dead skin cells and sebum. Cleansing your skin – once in the morning and once at night – helps to remove those elements of the skin's surface and keep your pores clean. If you're going to treat your blackheads, cleansing first ensures that the skin's surface is clean of any dirt and bacteria that can seep into your open pore after the blackhead is removed.
2) OPEN CLOGGED PORES
To get even deeper into your pores, you can open them up using a facial steamer, a warm compress or a clay mask.
Facial steamer: There are facial steamers specifically designed for treating blackheads at home. You simply hold your face over the steamer for 5 to 8 minutes and the heat generated by the steam opens your pores.
Warm compress: A warm compress also uses heat to open your pores. All you have to do is soak a cloth or towel in warm water and press it to your face for between 3 and 5 minutes.
Clay masks: There's not much better than a clay mask for removing gunk from pores. After applying a mask, allow it to dry. Once dried, the clay pulls dirt, dead skin cells, as well as oil from deep within the pores.
These three pore-opening methods allow your pores to open so that anything trapped deep inside can be cleared out.
3) APPLY A TONER
With just a few drops of toner on a cotton ball, you can remove anything left behind after cleansing. That includes any leftover dirt, dead skin, oil, or bacteria. They restore balance to your skin's surface after cleansing strips away some of the natural oils needed to maintain your complexion. You can also find toners specifically designed for blackhead-prone skin. These are formulated with ingredients that dislodge blackheads and prevent their formation.
4) REMOVE BLACKHEADS
You should only remove blackheads with a proper blackhead removal tool. To do so, place the blackhead removal tool over the blackhead.
Apply gentle pressure to one side. If the blackhead isn't released, apply gentle pressure to the other side of the blackhead. But never (and we mean never) apply excessive pressure when a blackhead is being stubborn. Avoid damaging and irritating your skin by applying additional toner. If the blackhead won't come out, try again in 1 or 2 days.
Once a blackhead is released, run the loop across the surface of the pore to clean the dirt and bacteria. Don't use your fingers for this step as that can introduce bacteria from your hands to your open pore.
5) CLEANSE & APPLY TREATMENTS
After removing blackheads, you'll want to clear your skin of any bacteria or dirt remaining on your skin. Repeat steps 1 and 3 after blackhead removal and apply a moisturizer. In lieu of moisturizing, you might consider using a blackhead treatment or another skin serum prior to restoring hydration to your face.
FINAL THOUGHTS
There are numerous methods to help manage blackheads that have already appeared on your face, but for the long-term health of your skin, consider adopting a good skin-care system to fight blackheads and other forms of inflammation forming in the first place. This may include using a gentle cleanser and a moisturizer that won't irritate as well as the incorporation of Retinoids, Glycolic Acid and/or Salicylic Acid into your regime.  Not only will checking these items off your list help with blackheads, but they will keep your skin looking better longer.