One of the things we hated most about high school and the only one that didn't seem to end when that last bell rang were the breakouts. Many of us pulled the short straw when it came to having flawlessly clear skin and there are still those of us who struggle to maintain a blemish-free complexion well after puberty has hit. With literally thousands of options in terms of facial pore cleansers on the market, how do you know what's going to actually do the trick?
Some people believe that facial scrubs are the best way to go but let's get that myth out of the way right off the bat: physical exfoliation actually leads to more damage than good.  Not only does the process cause small tears in the skin but it also strips it of oil and can even lead to excess sebum production.
We've gone ahead and highlighted all the key details on how to pick an effective pore cleanser so you know just what to look out for to achieve the skin you've craved since freshman year.
FACTORS OF A GOOD CLEANSER
The general guidelines below will help you understand some of the important things when considering  a cleanser for pores:
Non-irritating (i.e. no redness or tingling)
Contains limited amounts of sensitizing ingredients like essential oils or bad alcohols that may strip skin
Removes makeup & the other debris from the day
Has minimal fragrance or fragrance-free
Easily rinsed from your skin without any residue
Has an appropriate pH level between 4.5 and 5.5. High pH (alkaline) products will dry out your skin and lower pH (acidic) products can increase the probability of breakouts.
WHY PORES GET CLOGGED IN THE FIRST PLACE
Your body produces sebum to moisturize your face and keep your skin healthy in general.  Often, when there is an excess amount created it mixes with dead skin cells resulting in clogged pores.  When these pores are exposed to air and oxidize they become a blackhead while if the pore remains covered they frequently turn into whiteheads.
So basically we have two problems that contribute to breakouts: the overproduction of oil and the build-up of dead skin. The good news is that you can give your skin a fighting chance by using a pore cleanser that inhibits sebum production, limits bacterial growth and encourages the shedding of skin cells. Exfoliating is key here: the buildup of dead skin cells is a result of your skin not shedding (or exfoliating) as efficiently as it should. By boosting the skin's exfoliation abilities, you'll reduce the chances of acne flare-ups.
If you're looking to explore other treatments to target clogged pores make sure to check out our in-depth guide.
THE BEST INGREDIENTS FOR CLOGGED PORES
AHA's (Alpha Hydroxyl Acid) and BHA's (Beta Hydroxyl Acid) are two of the main ingredients you should be looking for in cleansers for your pores.
SALICYLIC ACID
Salicylic Acid works to both prevent and treat clogged pores by both exfoliating the surface as well as inside the pores. Salicylic Acid often works best for normal to oily skin and is effective for blackheads, whiteheads and, combatting blemishes as well as enlarged pores in general.
GLYCOLIC ACID
An AHA, Glycolic Acid is another powerful exfoliant that loosens the bonds between the top layers of skin where dead cells have accumulated as well as boost overall regeneration. Glycolic acid also inhibits the growth of Propionibacterium,  a type of bacteria that is responsible for the growth of acne. If you struggle with dark spots, blemishes as well as acne scars, this AHA can help treat those concerns as well, all while helping maintain the skins natural oil production levels.
LACTIC ACID
Another AHA, Lactic Acid is gentle and is perfectly suited for those of us with sensitive skin. With effective peeling properties, Lactic Acid decreases the chances of breakouts and treats scars by breaking down the surface scar tissue.  The AHA also protects the skin from bacteria and infection and is useful for helping you maintain the balance of pH that it needs.
WHAT TO AVOID IN A PORE CLEANSER
Here are a few things that may actually lead to clogged pores rather than help reduce them:
Formulas that are overly emollient or occlusive that contain heavy oils and moisturizers.
Try and keep skin-aggravating fragrances to minimal levels inclusive of essential oils like citrus, Menthol, Peppermint and other essential oils.
Alcohols are not all necessarily bad but certain ones like Ethanol and Alcohol Denat dry out skin that as we discussed earlier may result in excess sebum production and therefore clogged pores.
BEST CLEANSERS FOR PORES
Paula's Choice Clear Pore Normalizing Cleanser $13
With 0.5% Salicylic Acid, Paula's choice's popular cleanser managers to clear clogged pores without causing flakiness. The fragrance-free formula will gently lift oil, debris and other impurities without leaving skin with a tight or tacky sensation.
---
Glytone Mild Gel Cleanser $33
Glytone's Gentle cleanser contains the AHA Glycolic Acid to exfoliate and prevent the build-up of dead skin cells that often leads to breakouts.  The lightweight formula is oil-free,  rinses off easily to leave and leaves skin with a well-balanced pH level.
---
DermaDoctor Ain't Misbehavin' Medicated AHA/BHA Acne Cleanser $30
Formulated with Salicylic Acid (BHA) and Glycolic Acid (AHA), this powerful cleanser combines the best of both worlds to offer an effective exfoliant that works on the skin surface and inside the pores themselves. As an added bonus, the witch-hazel in this cleanser helps tighten the skin and reduces the appearance of enlarged pores.
If clogged pores aren't your only skin concern and you're looking for a cleanser that combats the visible signs of aging, have a look at our overview.
CLEANSING BRUSHES FOR DEEPER LEVELS OF EXFOLIATION
One type of physical exfoliation that you should consider is the kind you accomplish with a cleansing brush. Using a soft, bristled brush will ensure that you're getting all your makeup off and the surface of the skin is clean but without the damage. Make sure not to overdo it or you'll wind up stripping your skin of oil and causing more problems than you started with.
PRODUCT RECOMMENDATION
Foreo LUNA 2 ($199)
The LUNA isn't your typical cleansing brush – the silicone bristles gently and effectively remove dirt, makeup, dead skin cells, and blackheads. At the same time, the LUNA massages your face to encourage blood circulation, making your skin appear plumper and reducing the appearance of fine lines and wrinkles.
Check out our article. if you're looking to learn more about the benefits of the Luna and other great anti-aging devices?
WHY CONSIDER A LEAVE-ON TREATMENT?
If you're looking to combat more advanced cases of clogged pores and skin blemishes consider looking into AHA or BHA products that remain on the skin for a longer period of time.
BEST LEAVE-ON TREATMENTS FOR LARGE PORES
Jan Marini Bioglycolic Bioclear Lotion $68
Jan Marini's formula combines the powers of Glycolic Acid (AHA) and Salicylic Acid (BHA) to provide advanced exfoliation and treat scarring, inflammation, as well as enlarged pores.  Due to the potent nature of the serum, not only is it advised to start conservatively, alternating days of use but also consider using it only in areas where your pores are clogged up.
---
Paula's Choice Skin Perfecting 2% BHA Liquid Exfoliant $28
With 2% salicylic acid,  Paula's choice leave-on exfoliant sheds dead skin cells, cleans plugged pores and minimizes the appearance of enlarged pores. This gentle formula can be used up to twice a day after cleansing and contains the antioxidant Green Tea which will help to soothe and calm while Sodium Hydroxide helps restores the skin's pH balance.
---
Peter Thomas Roth 10 % Glycolic Acid Hydrating Gel $45
Using a 10% concentration of Glycolic Acid, this gel-moisturizer encourages cell turnover to not only exfoliate dead skin cells and avoid clogged pores but also to reduce the appearance of fine lines and wrinkles. Other skin-beneficial ingredients include Aloe Vera for soothing and calming as well as the powerful antioxidants Vitamins A and E.
---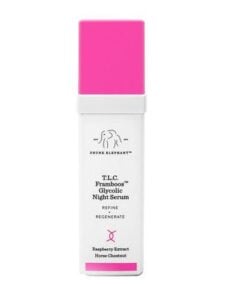 Drunk Elephant TLC Framboos Glycolic Night Serum ($90)
Combining the benefits of Glycolic, Lactic and Salicylic Acid, this night serum evens skin tone, sheds dead skin, improves your complexion and combats the bacteri that cause acne. The lightweight gel serum also contains soothing ingredients like Aloe and Antioxidants such as Green Tea and Raspberry extract to fight free radical damage.
If a leave-on treatment is too much of a commitment, consider a natural or organic toner to treat your pores.
FINAL THOUGHTS
Many of us require Instagram and its wonderful filters to achieve that flawless looking skin we've always dreamed of. Armed with a little knowledge of what to look for and what to avoid, we have the ability to give our skin what it needs to stay relatively clear of blemishes and breakouts irl (in real life) … as the kids say.