Foundations are one of the staple products of any makeup user. Whether you prefer powder foundation or liquid foundation, it goes all over your skin, making it the most prone to being a catalyst for breakouts. The oil-absorbing qualities of powder-foundation allow it to feel weightless on the skin, and flexible in terms of coverage too! There is certainly questionable ingredient⎯ talc⎯ that can be toxic for the skin, yet is often found in foundations (mostly powder ones). Read further to see why finding talc-free foundations is a smart skincare decision, and, our favorite picks. 
WHY GO TALK-FREE WITH YOUR FOUNDATION?
Talc is a natural, soft mineral that has a dry, chalky consistency. Though there is controversy over how harmful it actually is in cosmetics, it is proven to bring irritate sensitive skin and the eyes. Additionally, inhaling talc can be dangerous as it may lead to respiratory problems. Natural talc can also contain toxic asbestos, often a catalyst for cancer as seen in many cases with talc miners. Along with this, talc-free formula is perfect for achieving the glowy, natural, and dewy look as opposed to the early 200's overly-matte and cakey look. 
16 BEST TALC-FREE POWDER FOUNDATIONS
100% Pure Fruit Pigmented Powder Foundation $45
This organic and luminous talc-free powder foundation reduces unwanted shininess with mattifying rice powder. The lightweight powder provides medium coverage and a light matte finish. We love that the pigment is naturally derived in this powder, taken from fruit and vegetables that also provide a silky satin finish. 100% Pure's vegan formula uses botanicals like rose, eucalyptus, and white tea to provide anti-aging benefits and tone and soothe the skin too! This soft cruelty-free foundation is completely natural and provides a flattering finish without feeling overly heavy on the skin. 
Alternatively, 100% Pure also makes a richer Fruit Pigmented Cream Foundation ($48) that is not only talc-free but also made with fruit pigments. Better for normal, dry, and combination skin types, this foundation can be built up to full coverage. The avocado butter in this formula is what allows it to provide long-lasting coverage, and also seamless blending. The cocoa beans used in this cream foundation assist in the all-day coverage, and chamomile and calendula further purify and calm the skin as its worn. This organic cream foundation is perfect for those looking with more coverage, but still, feel comfortable on the skin. 
There's too many good formulas from 100% Pure to just choose one. The Fruit Pigmented Healthy Foundation ($48) in particular (with rave reviews, mind you). Okay, technically, it is liquid, but it is still a talc-free foundation with some amazing ingredients. Some of our favorite ingredients in this formula include: super-soothing aloe, rich fruit oils, rice powder, goji berry to boost collagen, coffee cherry for anti-aging, mangosteen to tighten skin, and elderberry to clarify the skin. This foundation is recommended for normal to oily skin types and comes in 9 shades with different undertones. One thing to keep in mind with this natural formula is that it can dry relatively quickly, so 100% Pure recommends applying it in sections so you have enough time to blend it in! The result? Luminous, velvety skin that comes with the flex of being all-natural. 
---
Jane Iredale PurePressed Base Mineral Foundation $44
Looking for an SPF lightweight, pressed, talc-free powder foundation? Your search ends here. Jane Iredale has made an impressive formula that is 100% vegan, and can be used anywhere from sheer to full coverage⎯ as a concealer and foundation. We love a multipurpose moment, and Jane Iredale's foundation is serving one for sure. With a semi-matte finish (made completely cruelty-free), it also comes in a cute compact with a mirror for easy application. The SPF and 40-minute water resistance formula makes it ideal for the summertime, too. 
You might prefer Jane Iredale's Beyond Matte 3-in-1 Liquid Foundation ($50) made by the same brand if you're hoping for a more traditional liquid foundation. Also with many uses, it works as a primer, concealer, and foundation all in one. Free of talc and synthetic ingredients, the formula gives off a very photo-ready finish that is buildable to your preference. Clean, made with healthy ingredients, and multipurpose⎯ we're pretty sure this is heaven in a foundation.
---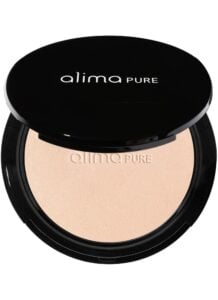 Alima Pure Pressed Foundation $34
Another compact and talck-free powder foundation, Alima Pure uses organic silky rice to create buildable coverage. We also love that it includes rosehip to soothe and protect the skin despite it being a makeup product. The natural mica powder in this formula is what gives it the velvety, matte finish⎯ clear skin is literally a 2-second job with this easy-to-apply powder. 
Alternatively, you may like Alima Pure's Satin Matte Foundation ($28) – which comes in a lightweight loose powder talc-free foundation made by the same brand. This hypoallergenic, natural formula gives you even more flexibility with going as light as you want⎯ to the point where it literally feels like nothing is on your face. In addition, the loose powder makes this product perfect for enhancing smoothness by covering fine lines and pores. Weightless application, talc-free, and clean ingredients make this a definite yes. 
---
Ilia True Skin Serum Foundation $54
A talc-free Serum and foundation? Ilia's revolutionary formula is a hybrid between skincare and makeup, equal parts of both. The weightless liquid foundation uses organic extracts from aloe, rosehip, jojoba, and marula to improve the skin and minimize the appearance of pores. Buildable from light to medium coverage, it does a great job at color correcting the skin and still giving it that luminous finish we all love. If this foundation was a person, we'd be crushing, like the 2000's rom-com type of crushing. 
---
Antonym Cosmetics Baked Foundation $38
Yes⎯ you didn't read that wrong. This foundation is baked! Baking leads the powder foundation to achieve an extremely delicate texture that still keeps the hydrating properties of a cream foundation, but in a more lightweight version. The organic mineral foundation uses squalene and mica to brighten the complexion without giving that oily or cakey feel on the face. If you're looking for flawless, uniform coverage, this one's a winner. 
---
Juice Beauty Phytopigments Flawless Serum Foundation $45
Consider Juice Beauty Phytopigments Flawless Serum Foundation ($44) with the same natural skin-loving talc-free ingredients. Also made with hydrating grapeseed oil and plant-derived pigments, this liquid foundation leaves your skin looking noticeably younger and smoother. The liquid foundation makes it easier for blending and achieving a full-coverage look, so it can be a perfect natural replacement to your current foundation. 
---
Lily Lolo Mineral Foundation $22
This award-winning talc-free loose mineral powder foundation is definitely worth the hype. Its smooth, airbrushed finish uses light-reflecting mica to minimize the appearance of fine lines. Recently named Elle Magazine's beauty editor's #1 pick, the powder is commended for its breathable formula that still gives a matte finish. Recommended by leading dermatologists, it is a great choice for acne-prone skin, or those that deal with rosacea or other skin allergies. Made without harsh chemicals and fully vegan, we are in love with the natural glow it leaves on this skin!
---
RMS Beauty "Un" Cover Up Cream Foundation $52
This natural talc-free cream foundation has numerous convincing reviews to back up its beautiful coverage. The blendable formula uses coconut, jojoba and buriti oils to hydrate and protects the skin from free radicals. The result is an improved texture and tone in the skin. Along with that, the natural cream foundation does amazingly in covering up blemishes and leaving a radiant finish. 
---
Westman Atelier Vital Skin Foundation Stick $68
The only talc-free foundation stick on this list, this high-performance vegan product gives amazing coverage. What sets the bar so high for this product is how its packed with natural and nourishing ingredients. Vegetable-derived squalene in the stick foundation is what helps to retain suppleness in the skin, something most foundations can't. Camelia seed oil protects the skin from pollutants and works to soothe and calm irritation on the skin. Organic coconut oil hydrates the skin and gives it the perfect consistency for blending (something people often don't associate with stick foundations). Natural Berryflux vita in this product is what gives it the anti-aging properties and ultra-hydration. Westman Atelier did not skimp on natural ingredients, and it's an understatement to say we approve of it. 
---
W3LL People Bio-Base Baked Foundation $25
Another talc-free baked foundation, W3LL People combines the benefits of cream and liquid foundation into one product with its weightless, natural formula. With a semi-matte and luminous finish, the powder is best applied with a wet brush and with downward strokes. Squalene in this product allows it a dewy finish, despite being so lightweight. Bio Base's product gives us the best of both worlds in this perfectly compact foundation. 
---
Gressa Minimalist Corrective Serum Foundation $62
Another multi-purpose talc-free formula to add to your list, Gressa uses so many natural ingredients it's hard to highlight just a couple of them. Some of our favorites include broccoli seed oil, coconut alkanes, horsetail extract, lemon balm extract, and elderflower extract. It also includes Gressa's patented Healing Complex to further improve the skin (despite being makeup). Promoting radiance through coverage and skincare, this product won't disappoint you. 
Looking for other talc-free makeup alternatives? Consider our articles on the best of talc-free setting powder, talc-free eyeshadow, talc-free bronzer, and talc-free blush. Alternatively, check out our guide on the best talc-free makeup brands!
FINAL THOUGHTS
Talc-free foundations are definitely worth the extra effort, and with this handy list, you'll be able to make the best decision. Avoid the chance of ingesting harmful asbestos or irritating the skin and alternatively enjoy these natural foundations. Whether you're into liquid foundation or powder foundation, you won't regret making the switch to talc-free.