Vitamin C is much more than just something that boosts your immune system during cold and flu season. This antioxidant, like so many others, is really great for rejuvenating your skin. From the positive effects it has on hyperpigmentation and acne-prone skin to its anti-oxidizing properties, Vitamin C will improve your complexion and help stave away the visible signs of aging. Though Vitamin C is present in so many of the foods we eat, using a topical Vitamin C serum is one of the most effective approaches to maximize all of its benefits.
VITAMIN C SERUM 101
Put simply, it's a serum wherein Vitamin C is the active ingredient. Usually combined with other skin-beneficial ingredients, the Vitamin C in a serum works to fight free radicals, calm inflammation, and irritation, boost the production of collagen, brighten and even skin tone and protect against harmful UV rays. We'll get into all of the benefits of the best Vitamin C serums a little later, but for now, we're going to discuss the two most common forms of Vitamin C found in cosmetic products.
L-ASCORBIC ACID
This derivative of Vitamin C is the most common form you'll find in skincare products and it has the most research behind it.  This form of Vitamin C is known for its ability to protect against UV rays, increase collagen and elastin levels, improve skin tone and texture as well as reduce dark spots and discoloration. On the downside, l-ascorbic acid oxidizes quickly when it's exposed to air and light so it has to be stored with utmost care. It can also cause irritation and redness at high concentrations so look for formulas with 5-20%.
MAGNESIUM ASCORBYL PHOSPHATE
This form of Vitamin C will also boost collagen and elastin, brighten and even skin tone and have positive effects on hyperpigmentation. Although less is known about it, we do know that it's more stable than l-ascorbic acid and won't rapidly oxidize when exposed to light and air. It's also gentler on your skin and can be used in concentrations ranging anywhere from 1 to 20%.
WHAT DO VITAMIN C SERUMS TREAT?
As we've mentioned Vitamin C Serums are able to treat a variety of skin concerns, below we cover a few of the main ones:
VITAMIN C FOR ACNE
There are 3 ways Vitamin C for acne works. It fights free radicals, treats redness/inflammation and helps fade post-breakout scarring.
EFFECTS ON FREE RADICALS
Environmental toxins and bacteria are known as free radicals and they are the root causes of acne for some people. They break down proteins and fatty acids that make up your skin, which disturbs your otherwise healthy pH balance and damages the sebaceous glands responsible for producing sebum. When this happens, your glands overproduce sebum and leave the skin open to bacteria that causes breakouts and acne. Because it's an anti-oxidant, Vitamin C protects your skin against free radical by reducing them to harmless compounds and also clears these harmful toxins from your skin.
EFFECTS ON REDNESS
Your immune system has its own ways of dealing with acne – problem is, sometimes this process results in redness that can make your skin look just as bad as it does during a breakout. Leukotrienes are inflammatory chemicals produced by your immune system to kill acne-causing bacteria. But acne-causing bacteria have a decoy system that causes those chemicals to redirect towards the skin, causing it to turn red. Vitamin C works to calm the immune system rather than stimulate it, preventing the destruction of healthy skin and redirecting its efforts toward the bacteria in your pores. In addition, Vitamin C strengthens the lining of your capillaries (microscopic blood vessel that bring oxygen and nutrients to your skin). The redness of breakouts is usually generated at this layer of the dermis so by strengthening your capillaries with Vitamin C for acne, you minimize leaks of bright red blood vessels.
EFFECTS ON SCARRING
Luckily enough, many of us grow out of our acne stage. But that doesn't help the scars that it tends to leave behind. Vitamin C helps with the body's natural healing processes so it can boost the healing process for acne scars and other blemishes quickly and effectively. It also boosts cell regeneration and the formation of new skin which will reduce the appearance of any scars, among other benefits.
VITAMIN C FOR HYPERPIGMENTATION
Hyperpigmentation comes in many forms: sun spots, age spots, brown-ish marks or 'the mask of pregnancy'. All of these manifestations are caused by accumulations of melanin and they make you look older because your skin tone and texture appears (and in some cases is) uneven and dull. UV exposure is the most common cause of discoloration: UV rays stimulate pigment cells in our skin and cause our body to produce melanin. However, heat, hormones (birth control or pregnancy especially) and injury (post-inflammatory hyperpigmentation which is caused by trauma or injury), are all contributors to those darker spots and areas. While all skin tones can experience hyperpigmentation in its various forms, people of Asian, Mediterranean and African descent tend to be more sensitive to developing discoloration.
Vitamin C gently exfoliates your skin and encourages cell regeneration. By allowing dead skin to shed and be replaced by new skin, hyperpigmentation tends to fade. Vitamin C also blocks the enzyme known as tyrosinase which is a key component in the production of the pigment melanin. By blocking tyrosinase you prevent discoloration from occurring, leading to a brighter and more even skin tone. As we've already mentioned, the best vitamin C serums will also help speed up the healing process, taking care of any injury-caused hyperpigmentation, and also treats redness that may be contributing to an uneven skin tone.
When using Vitamin C for hyperpigmentation, one must practice patience because most products will take at least 4 weeks to start working. You also can't expect to use a vitamin C serum for hyperpigmentation while continuing to bask in the sun' rays – you should be staying out of the sun and wearing a strong broad-spectrum sunscreen or you'll be counteracting any benefits of the treatment.
VITAMIN C FOR FINE LINES & WRINKLES
Vitamin C serums have an answer for everything skin-related. By promoting the production of essential proteins like collagen and elastin, the building blocks of your skin, Vitamin C helps prevent and treat lines and wrinkles. As we all know by now, our body produces less and less of these proteins as we age but boosting their levels helps treat their appearance and also prevents their formation.
VITAMIN C FOR UV DAMAGE
A topical Vitamin C serum is pretty effective for protecting your skin from harmful UVA and UVB rays. While it shouldn't replace the regular use of a good broad-spectrum sunscreen, it is an antioxidant that strengthens your skin and its ability to repel damaging environmental factors. And if you're one of us pale day-walkers, Vitamin C can also help heal sunburns (it's part of its healing properties).
Vitamin C isn't the only vitamin with skin-beneficial properties. Check out guide about the most effective topical vitamins to learn about other antioxidants that can help strengthen and protect your skin.
WHAT INGREDIENTS WORK WELL WITH VITAMIN C?
Two heads are better than one and that's true in skincare too. Combining Vitamin C with other skin-beneficial ingredients can increase its efficacy and help you target more than one concern at a time. Below we've outlined two options for adding to your Vitamin C treatment.
VITAMIN E
Like Vitamin C, this vitamin is an antioxidant. It increases the protective properties of vitamin C because it too fights free radicals and protects against harmful UV rays. Vitamin E can also help balance the production of sebum, ensuring your skin is properly hydrated from the outside-in. When combined with vitamin C, it boosts your body's ability to heal and fight inflammation. Look for formulas that contain 15% Vitamin C and 1% vitamin E for your best results.
FERULIC ACID
Found in the seeds of fruits as well as in some vegetables, nuts, and grains, Ferulic Acid is a very powerful natural antioxidant. Ferulic acid fights free radicals to a greater degree than the aforementioned and is able to destroy several different types of free radical: 'superoxide', 'hydroxyl radical', and 'nitric oxide'. As such, it's probably one of the best natural tools for fighting wrinkles, especially when used with Vitamin C and E. Combining 15% Vitamin C, 1% Vitamin E and 0.5% Ferulic Acid makes Vitamin C eight times more effective. Look for a serum with these concentrations, or close to, to get the most out of your Vitamin C treatment.
PRODUCT RECOMMENDATIONS
100% Pure Vitamin C Serum $40
Along with  Vitamin C (in one of its gentlest forms of Magnesium Ascorbyl Phosphate), you'll find the plant extracts Grape Seed and Apple extract as well as nourishing Vitamin E in this formula. The light-weight serums' active ingredients are protected from the elements since they are housed in opaque packaging.
---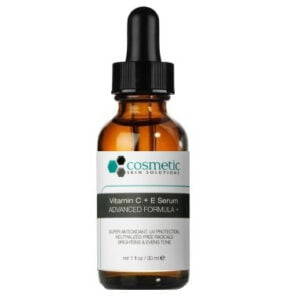 Cosmetic Skin Solution Vitamin C+E Serum $39.50
Cosmetic Skin Solutions' Formula combines 3 powerful antioxidants: 15% Vitamin C (Ascorbic acid), 1% Vitamin E and 0.1% Ferulic Acid to fight free radical damage and brighten and treat uneven skin tone. The oil-free serum is produced fresh each week and is made without parabens and is also cruelty-free.
---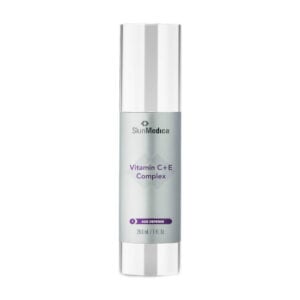 Skin Medica Vitamin C+E Complex Age Defense $102
Skin Medica's serum combines 2 forms of stabilized Vitamin C and Vitamin E to maximize potential rejuvenation benefits. Other key benefits of the fragrance-free formula and that the brand doesn't test its products on animals.
---
Paula's Choice Super Antioxidant Serum $38
Paul's Choice's highly-rated serum goes beyond the standard combination of Vitamin C, E and Ferulic acid by packing in a number of other skin-beneficial ingredients inclusive of a stabilized form of a peptide (Palmitoyl Tripeptide-5) that helps the way the skin functions, the intriguingSuperoxide Dismutase known for its rejuvenating benefits as well as even plant extracts from the likes of Green Tea among other. Other key benefits of the fragrance-free serum are that it is non-irritating and never tested on animals.
---
Skinceuticals C E Ferulic Combination Antioxidant Treatment $165
Skinceutical's formula contains the exact right combinations of Vitamin C and E and Ferulic Acid (15%, 1%, and 0.5% ferulic acid respectively) to target skin concerns like hyperpigmentation, free radical as well as acne-prevention.  As an added bonus, this serum combines VItamin B5 (Panthenol) with Hyaluronic Acid to provide the skin with increased hydration.
---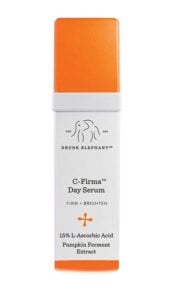 Drunk Elephant C-Firma Day Serum ($80)
With an appropriate pH level of 3.3-3.5, Drunk Elephant's serum is non-irritating and has all the advantages of Vitamins C and E combined with Ferulic Acid as well as multiple other skin-beneficial ingredients. These include plant extracts from the likes of Pumpkin and Pomegranate that help as well as Sodium Hyaluronate (salt form of Hyaluronic Acid) plus Murula Oil to help with hydration and moisture.
If you're in a Martha Stewart mood, why not try a DIY vitamin C serum? If you'd like to try making your own serum, check out our guide on how to make a simple DIY Vitamin C Serum.
Alternatively, if you're looking for a natural route check out our rundown of the best organic and natural Vitamin C serums.
WHEN SHOULD YOU USE A VITAMIN C SERUM?
The best Vitamin C serums can be used twice per day. At the very least, we recommend applying it after your morning cleanser and wearing it throughout the day. It's best to apply the serum underneath your broad-spectrum sunscreen because, as you now know, it boosts the ability of your sun protection agents in your sunscreen by protecting them against the damaging effects of UV rays.
HOW TO STORE VITAMIN C SERUM
With Vitamin C serums, refrigeration is definitely a good idea. These serums oxidize quickly when they are exposed to both light and air, so by keeping it in a cool dark place (like a refrigerator), it helps extend its shelf life out.  Disclaimer: oxidized vitamin C isn't dangerous, it just won't work be effective.
CHECKING YOUR VITAMIN C SERUM FOR FRESHNESS
You can check the serum's pH levels every few weeks to determine how fresh it is. This is especially important when making your own serum or when using l-ascorbic acid, the less stable but more common of the two forms of vitamin C. You can check the pH with pH strips: for serums using l-ascorbic acid the pH should be between 2.5-3.5 and for serums using magnesium ascorbyl phosphate the pH should fall between 6.0-7.0. If you notice that the serum is yellow/brown (if it was originally clear), it's already oxidizing, definitely, on the intensity of the color, you can make the decision to keep or throw it out.
PERIOD OF EFFECTIVENESS
Although Vitamin C isn't supposed to oxidize when it is well protected from the elements, as a general rule of thumb, it is a good idea to keep Vitamin C serums for up to 3 and sometimes 6 months before discarding them.
RESULTS
In terms of how long they take to work, you can see results as quickly as 4 weeks if you're using a Vitamin C serum regularly but you're more than likely going to have to wait at least 12 to realize its full potential. Keep in mind that period may be elongated if you need to get your skin used to the serum first – Vitamin C can sensitize skin so you should take your time working up to a daily application.
OTHER EFFECTIVE SOLUTIONS FOR HYPERPIGMENTATION
Vitamin C is a natural solution to some of your skin concerns. It works well, especially when combined with other ingredients, but there are other effective solutions that target the same types of concern which are worth your consideration.
EXFOLIATE
We don't recommend physical exfoliation (i.e. using a granular product to rub away and remove dead skin). Instead, chemical peels are excellent exfoliants which help treat hyperpigmentation as well as the visible signs of aging like fine lines and wrinkles. A chemical peel will literally peel away and shed the top layers of the dermis. In so doing, these cosmetic procedures boost cell turnover, reveal fresh layers of skin and, in turn, help fade hyperpigmentation.  For all the rejuvenating benefits of chemical peels have a look at our in-depth article.
RETINOL
Retinol is a derivative of Vitamin A. It's a topical solution for combating fine lines and wrinkles, improving skin texture and tone, increasing skin firmness and reducing breakouts. With minimal long-term side effects and fairly quick results, Retinol is a powerful anti-oxidant with a host of benefits for your skin.
There's a lot to know about retinol and it's different forms. Our guide on how retinol improves skin will help you navigate everything you need to know about this form of vitamin A and what it can do for your skin.
SUNSCREEN
The sun is arguably one of the main contributors to premature again. UV rays and the damage they cause manifests in uneven skin tone as well as fine line and wrinkles. By protecting your skin with sunscreen, you create a barrier between your delicate skin and the sun, minimizing any prospective damage it can cause.
It's not enough to pick up a sunscreen from the shelf and think you're protected. There are good ingredients and bad sun protection ingredients.  We can help you figure all of that out with our guide to understanding your sunscreen.
FINAL THOUGHTS

Vitamin C serums are an excellent addition to your skincare routine on their own or, even more-so when combined with other powerful antioxidants. Not only do they act as a treatment for discoloration, acne and the damage caused by free radicals, they are also a great preventative treatment so you can stop the signs of aging before they start. With Vitamin C in your arsenal, you can be sure your skin is protected and looks the best that it can be.