There's no doubt that highlight is king of contouring. But blush is a classic that's never going out of style. It adds the perfect finishing touch to your cheekbones and a little extra pigment that highlight can't achieve on its lonesome. And in the age of everything health and wellbeing, your rouge has gotten an upgrade to talc-free status.
Talc is in too many of our fave products to list. You'll find it in everything from makeup and deodorant to face masks and even feminine hygiene products. The cosmetic industry loves it because it's cheap and it checks a lot of boxes on their performance list. In terms of blush, it helps prevent caking and improves its texture to make it more blendable. It's bar-none to other ingredients for holding pigment and gives that opaque look that makes your blushing cheeks look more natural.
But there's some controversy surrounding this ingredient. Talc is a natural mineral that's found in mines. The problem being that where talc is found, asbestos is often found as well. And when the talc isn't mined to the highest standards, it can become contaminated. Which is how talc has been linked to cancer as well as skin sensitivities.
To be sure, there's no decisive ruling on the ingredient and cosmetic-grade talc is considered harmless in the eyes of the ever-watchful FDA. But when you don't want to take any chances, especially when it comes to the c-word, talc-free is a good way to go.  Learn more about why you should go for talc-free makeup here.
The good news is… there is plenty of talc-free blush that out performs its potentially toxic counterpart. The better news is… we've gathered a list of the 11 best talc-free blushes for your review.
BEST TALC FREE BLUSH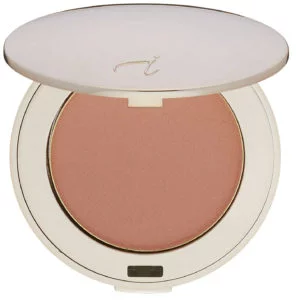 Jane Iredale PurePressed Blush $30
There are plenty of high-performance talc alternatives, and if anybody knows what those are, Jane Iredale does. Experts in mineral makeup, they've formulated all 12 shades of their blush with the "Rolls Royce" of minerals – aka boron nitride. This ingredient helps the color glide on smoothly, diffuse perfectly depending on your lighting, and adhere for all-day wear.
---
Sappho New Paradigm Blush $25
Sappo is just as concerned about the environment as they are about your health. Which is why they've opted for refillable, plastic-free compacts and non-GMO ingredients. Instead, they use eco-cert minerals to create 5 satiny shades with incredible staying power. And for added au natural, they've pressed them with certified organic flower and herb essential oils that bring double-duty freshness to your cheekbones.
---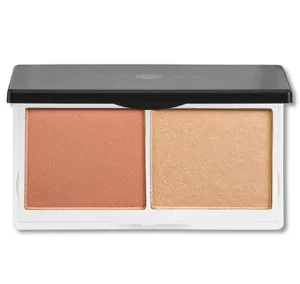 Lily Lolo Cheek Duo $24
You're probably not a professional MUA, but you can look like one with this perfectly paired blush duo. Choose between a natural matte finish or radiant and dewy glow – or combine them for the best of both worlds. Also formulated with jojoba and pomegranate oil, who knew a travel size compact could pack so much greatness?
But if you already know the pink, peach, or earthy shade that looks best on your skin tone, choose from one of Lily Lolo's 7 award-winning easy-wear Pressed Mineral Blushes ($20). They're highly pigmented but naturally sheer, so you can achieve a natural finish or add to something brighter. Choice is the number one word when it comes to Lily Lilo – and that also means choosing between matte and shimmer in every single shade.
---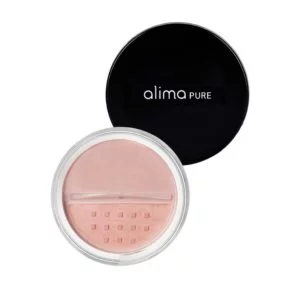 Alima Pure Shimmer Blush $24
There's nothing quite like a loose-powder blush for sitting just right on the surface of your skin. In this 13-shade collection by Alima Pure, their two finishes are available in every shade, so you can choose whether that light powder sits in a subtle shimmer or a natural flush. Like all makeup made by Alima Pure, the blush line is vegan, free of toxic ingredients like fragrance and parabens, and flattering for most skin tones.
---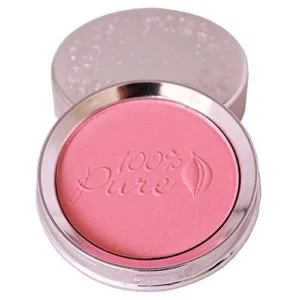 100% Pure Fruit-Pigmented Powder Blush $37
When you won't compromise human health to achieve rich pigmentation, turn to fruit pigments. That's the ethos behind 100% Pure's entire makeup line – and their blush delivers all the pigment you're looking for plus the vitamins contained in the fruits they use. High in antioxidants, this blush protects your skin while it makes it shimmer and shine.
---
Honest Beauty Creme Blush $21
Sometimes, we want to look like we're not wearing any makeup. Other times, we want people to know how long we've spent perfecting our contour. For both of those times, there's Honest Beauty's buildable and blendable blush. This cream blush is everything you want in texture, and it's infused with 7 botanical ingredients. So regardless of the look you opt for, your skin will be naturally nourished and protected.
---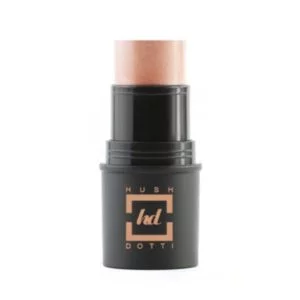 Hush+Dotti Organic Lip & Cheek Tint $29
If you know us, you know we love a 2-in-1. Any list would be incomplete without at least one option that gives you more than one option. So here we have Hush and Dotti's Lip + Cheek Tint – the perfect flush of color for both your cheeks and lips and an excellent travel companion for those last-minute, post-work plans. Use just a hint for a subtler look or, build to your hearts desires… the sunflower oil, lavender, and oregano are ingredients your skin doesn't mind you layering.
---
Vapour Organic Beauty Aura Multi-Purpose Blush $36
And for another multi-purpose product that gives you more bang for your buck, we bring you this Vapour blush stick that can also be used on your lips and lids. Available in eight highly pigmented and beautifully blendable, this essential gym bag item not only refreshes your natural essence, it also calms and protects your skin. It's formulated with a proprietary Herbal Enlightenment Complex of Frankincense Tulsi and lotus that you won't find in any other item out there.
---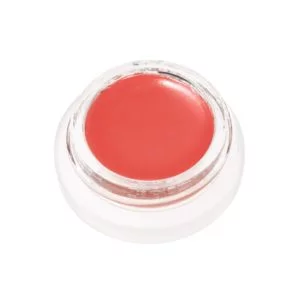 RMS Beauty Lip2Cheek $36
In 10 shades ranging from pinks to earth tones, RMS has somehow perfected a formula that's beneficial for both your lips and your cheeks. This cream blush hydrates and protects the skin on your face as well as it does the skin on your lips – all while delivering rich mineral color that can be taken from natural to bold in a pinch. To achieve this miracle in moisturizing pigment, they've formulated with coconut oil, argan oil, rosemary extract, and even more non-GMO fabulousness.
---
Burts Bees Natural Blush $10
Burts Bees has been doing the natural thing for a long time now, so you know they've got the experience needed to create the best of the best, and at an affordable price. Their blush is pigmented with lightweight minerals and made to match fair to tan skin tones. It's also formulated with the likes of bamboo, honey, and vitamin E for added skin benefits beyond giving you a healthy, radiant glow. Available in 3 shades, what you won't find in this compact is parabens, phthalates, or synthetic fragrances.
---
Zuzu Luxe Mineral Blush $22
For those that keep our furry friends in mind in all things they purchase as well as those MUA that need to have a vegan option in their stash, this vegan formula is also cruelty-free and 100% natural. Find it in five rich shades that create a silky yet natural-looking glow or blend it with your other favorite shades for a bold pop of color.
If you're curious about talc-free blush you might be looking for something more.  Check out our rundown on the best organic blushes, many of which are also talc-free.
FINAL THOUGHTS
In a world where consumers are becoming increasingly conscious of their purchases and how they effect not only our health but the health of the planet, talc seems to be on its way out. But in that same world, where technology and innovation rule, leaving one item out doesn't mean compromising on the integrity of the product. All of our best talc-free blush picks deliver everything you'd get from a product that contains this potentially harmful ingredient and, in many cases, give you the added benefits of natural ingredients that restore and rejuvenate your skin.