When it comes to faking a year-round tan, bronzer is your best friend. Not quite for contouring but offering a layer of depth and definition in its own right, bronzer gives you that sun-kissed glow in all the right places. And when you're smothering this lightweight, shimmery powder onto all the right places of your nose, chin, cheeks, and forehead, you want to be sure it's full of only great ingredients.
That brings us to talc. Used primarily in cosmetics for its moisture-absorbing, texture-improving, and formula-filling properties, talc is a controversial ingredient that's found in so much of our makeup. In bronzers, it's used for its ability to dilute pigment – and to do so at a fraction of the cost of other fillers. But it's also used to give your bronzer an opaque finish that sits lightly on your skin without caking. The problem is that this ingredient has long been linked to some forms of cancer, as well as breakouts and irritation (particularly for those with already sensitive skin).
Although the FDA has never made a decisive ruling, research hasn't conclusively proven a link between the two, and the Johnson & Johnson case that brought so much of this controversy to the fore has recently been overturned, talc is something of a cautionary tale we suggest limiting your exposure to. And, in its absence, we offer you the best talc-free bronzers we could find.
BEST TALC FREE BRONZERS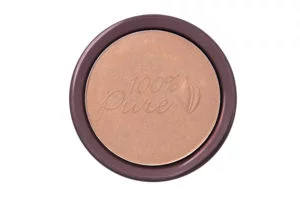 100% Pure Cocoa Pigmented Bronzer $37
Made with aloe for soothing, rosehip for cell regeneration, avocado oil for omegas, black currant for antioxidants, and an ingredient list sans anything we can't pronounce… is this a bronzer or a luxurious organic skin serum? Believe it or not, it's the latter – and this cream-to-matte finish bronzer outperforms many non-natural alternatives in terms of hiding your imperfections and defining your features.
---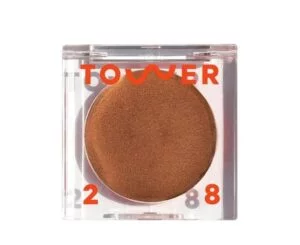 Tower 28 Bronzino Illuminating Bronzer $20
Winner of awards including Allure's best of beauty, Tower 28's long-wear bronzer that comes in 2 shades (West Coast, a medium bronze & Best Coast a deeper bronze) has caught our eye not only for its skin-beneficial ingredients but also it's (relatively) affordable price. The cruelty-free formula is designed especially for sensitive skin, blends easy and provides skin with an ethereal glow. Key ingredients in the talc-free bronzer include moisturizing mango butter and antioxidants like the calming green tea extract.
---
RMS Beauty Organic Buriti Bronzer $28
This popular bronzer has ingredients so good, you'll want to put it all over your body – and you absolutely can. Formulated for use in the regular places you apply bronzer, it can also be used on your shoulder blades and shoulders on nights that call for a strapless number. A far cry from the sparkly and/or orange hues you find with traditional bronzers, RMS put a good deal of thought into creating something that replicated being kissed by the sun. Then they took it a step further by adding wildcrafter Buriti oil, high in vitamin a and beta-carotene.
---
Givenchy Teint Couture Healthy Glow Bronzer $53
Givenchy is going the way of clean(er) beauty, evident in their fan-favorite formula of this pressed powder bronzer. They've ditched the talc and parabens and developed three iconic shades that are as formidable and versatile as old formulations. Wear them alone for a slight glow or build them up for a dramatic contour that's light reflective.
---
Vapour Bronzing Powder $40
When you put tons of work into sculpting and contouring, you want it to look natural. This pressed powder bronzer melts into your complexion, making it an excellent candidate for a minimalist look but also capable of sitting on top of other makeup without caking or cracking. The soft finish is complimented by organic and plant-derived skin-softening ingredients like squalene and amino acids.
---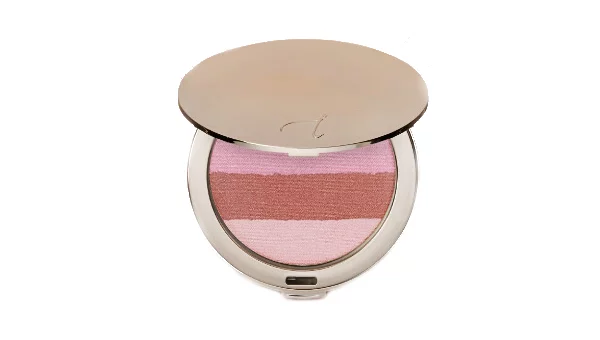 Jane Iredale Bronzer $44
From the pinkest Peaches and Cream to the medium range Moonglow Golden, the natural experts at Jane Iredale have parceled all 4 of their refillable clean bronzer compacts with 4 warm, complementary shades. With ingredients like pomegranate and pine bark extract for nourishing and protecting the skin, you can sweep this talc-free bronzer across your cheekbones, nose, and chin as well as more delicate areas like eyes and even lips.
---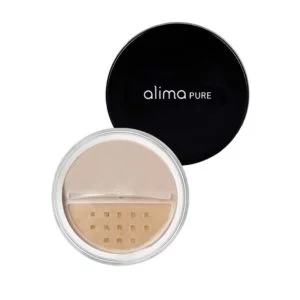 Alima Pure Loose Powder Bronzer $24
In 3 shades that cover most light and medium skin tones, this matte bronzer without talc gives less of a shimmer and more of a subtle, natural finish. If you're a less-is-more kind of makeup enthusiast, these weightless and bare bronzers are the perfect addition to your collection. But that's not the only subtleties this bronzer offers – Alima designed these loose powder bronzers with only 3 mineral ingredients, meaning it has the lowest possible impact on your skin.
---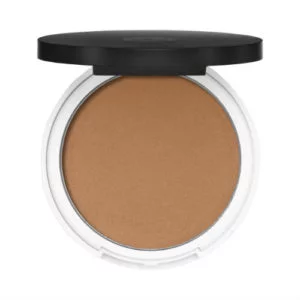 Lily Lola Pressed Bronzer $26
When you need options, Lily Lola's got options: matte or shimmery, natural or sun-kissed, one layer, or multiple layers, of buildable pigment. Whatever you're looking for in a natural bronzer, you'll find it in this line, with the added benefits of skin-nourishing botanicals like pomegranate seed, argan, manuka, and sunflower seed oil.
---
Tarte Amazonian Clay Waterproof Bronzer $38 (Park Ave Princess, Radiant finish)
Infused with Amazonian clay for a waterproof but breathable formula, this high-performance bronzer gives you all-day wear in a high sheen compact that you'll never want to hide away in your makeup bag. Whether you're looking for a healthy-looking glow or a bronzer you can build with, the finish on this pressed powder will seamlessly blend with your skin so you never worry about flakiness, clarity, texture, or excess oil. Be sure to check which Tarte Bronzer you're looking at as different formulations may contain talc.
---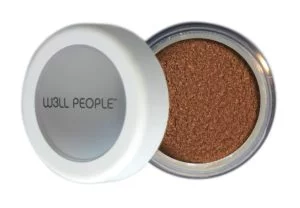 W3LL PEOPLE Organic Bio Bronzer Powder $21.99
W3LL PEOPLE's award-winning organic bronzer comes in one universal shade that's unrivaled at perfecting the natural, no-makeup look. If that doesn't tell you how good this bronzer is, then also consider that the brand doesn't use any artificial or synthetic chemicals in their handcrafted, small-batch products. They didn't leave out the people who prefer cream bronzers either. When you want all the same nontoxic goodness of the powder bronzer but with more coverage and corrective properties, try their cream stick bronzer ($23.99)  that doubles as a lip and cheek color.
---
Kosas Sun Show Bronzer $34
A highly rated baked powder is the best of both bronzer worlds: the long-last hydration of a cream with the featherweight wear of a powder. With the addition of moisturizing ingredients like shea butter, the result is a warming semi-matte finish of sun-kissed color that also delivers nourishment, vitamins, and minerals to cheekbones, jawline, forehead, collarbones, and nose.
---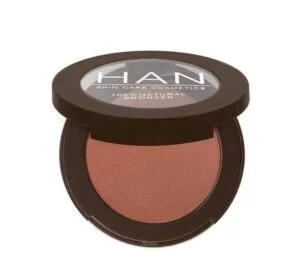 Han Skincare Cosmetics Pressed Bronzer $16
Last but definitely not least Is Han's highly-rated clean and talc-free pressed Bronzer, available in 3 shades. Although the vegan formula may be the most affordable on the list it still is full of skin-beneficial ingredients. Some of the skin-beneficial ingredients in the nourishing bronzer to note include cocoa extracts and argan oil.
WHY GO TALC FREE?
To be completely transparent, as we always strive to be, the FDA still considers talc as generally recognized to be safe. But, we don't know how much that takes away from the fact that where talc is mined, asbestos is also close by. Because these powdery minerals are mined in such close proximity, it doesn't take much for asbestos to contaminate the widely-used cosmetic ingredient.
The biggest brands using talc in their product, like Johnson & Johnson, contend that cosmetic grade talc is akin to pharmaceutical grade talc. That is, it's only ever mined from places that are certified safe. However, that same big brand has faced a host of lawsuits in recent years that attempt to establish a link between talc use and the development of cancer, especially ovarian cancer.
There is no conclusive evidence that demonstrates that link. But there's also not a lot of evidence to the contrary. Which is why we think going talc-free is to err on the side of caution. Not to mention that, besides cancer, this ingredient has been linked to respiratory illness and skin irritation.
But one of our biggest reasons for support talc-free options is that these brands also tend to leave out other potentially harmful chemicals, including parabens and phthalates. When these brands got woke about the potential dangers of something so widely used as talc, they decided to look further into their formulas and develop bronzers and other makeup products that do you far more good than harm. They tend to be filled with natural and organic ingredients whose only side effects include hydration, nourishment, and restoration.
If you're looking for other talc-free formulas – consider our run-downs on the best of talc-free setting powder, talc-free eyeshadow, talc-free foundations, and talc-free blush. Alternatively, consider our overview of the best talc-free makeup brands!
FINAL THOUGHTS
Sitting out in the sun for extended periods of time might get you the tan you're after, but those UVA and UVB rays can also be extremely damaging to your skin. A bronzer can help give you the sun-kissed glow you're after, with none of those potential side effects. But a bronzer containing ingredients that are harmful to your health isn't much of a step up. So when it comes time to refill your tan-in-a-compact, consider these talc-free options and put your well-being first.